---
How to Apply a Motorcycle Insurance in Cebuana Lhuillier?
If you own a motorcycle, a Third Party Liability (TPL) Insurance is required when you renew your motorcycle registration every year. One reliable company, Cebuana Lhuillier offers this TPL Insurance for motorcycle owners at a cheaper price than those insurance providers established near the LTO (Land Transportation Office).


Cebuana Lhuillier insurance policy has almost the same benefits with other insurance providers. Maximum benefit you can get from Cebuana Lhuillier insurance is Php100,000 at a cost of around Php300. Compare it to your current insurance provider. Other insurance providers offer a maximum benefit of Php 100,000 at a cost around Php700 to Php800.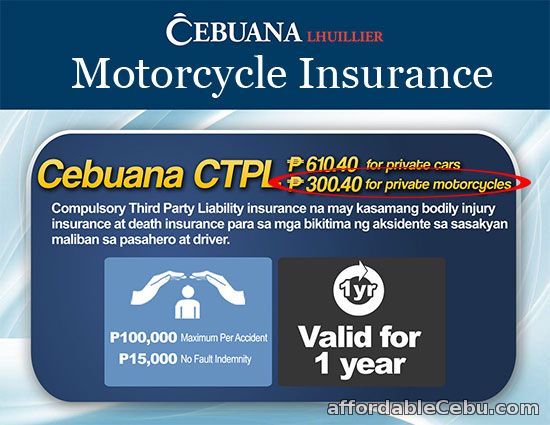 Another advantage if you avail insurance in Cebuana Lhuillier is the convenience and accessibility. You can claim the benefit of your insurance in any Cebuana Lhuillier branches. Imagine how many branches Cebuana Lhuillier has, all over the Philippines. For example, if you apply for an insurance in Cebuana Lhuillier Quezon City, you can claim the benefits in Cebuana Lhuillier Cebu City. Unlike other insurance providers where number of offices are limited.
I'm not endorsing Cebuana Lhuillier here. I'm just telling you to be wise in choosing a motorcycle insurance. If you're interested to apply or get a motorcycle insurance in Cebuana Lhuillier here's a very simple one-step procedure you can do:
Bring the latest OR (Official Receipt) of your motorcycle registration, the CR (Certificate of Registration) of your motorcycle and the Php300 payment and go to any Cebuana Lhuillier branch.
The processing of your application would normally takes 5 to 10 minutes depending on the number of clients served.
If you're having a problem getting a motorcycle insurance in Cebuana Lhuillier, don't hesitate to post it in the comment below. We would also like to know your opinion: why do insurance providers near the LTO office offer twice more expensive insurance cost?
Warning! When posting comments, strictly observe correct spelling. Avoid incomplete words such as TY (as Thank You), Pls as Please, gud as good, dpt as dapat, etc. You can comment in English or Tagalog. If you will not follow this simple instruction, your comment(s) will not be accepted or published.
Total comments: 3
3
Reynaldo reyes
(27 February 2017 12:20 PM)
Sabi sakin sa Alabang Branch nyu sa Montillano...kailangan pa daw naka registered yung plate ko sa LTO address to Cebuana...2nd year nako tinangihan ng Cebuana...kaya medyo dismayado nko paano ko ipag sasabi itong Cebuana ehhh sama ng expirience ko sa inyu...2014 pa unang narehistro sa LTO motor ko...2016 -2017 tinangihan nyu ko......ALPHANUMERIC SEVEN DIGITS PLATE ko...mahirap ipag sabi ang Cebuana...maari yung masamang karanasan pwede ko ikwento....IGLESIA NI CRISTO pa naman ako dami kapatiran...
2
mark
(16 February 2017 7:46 PM)
maliban sa CTPL insurance.. wala bang inooffer na comprehensive insurance?
1
Jonathan
(03 August 2016 4:16 PM)
Hi, kukuha sana ako ng TPL insurance, ang sabi sa akin nung teller kung ano daw ang nakalagay sa rehistro, yun din ang ilalagay sa insurance. Ang problema kasi, ang nakalagay sa rehistro ko is single motorcycle. Etong renewal ko ng rehistro, ipagagawa ko na siyang with tricycle. Wala po bang magiging problema kung ganito?