If you own a motorcycle, a Third Party Liability (TPL) Insurance is required when you renew your motorcycle registration every year. One reliable company, Cebuana Lhuillier offers this TPL Insurance for motorcycle owners at a cheaper price than those insurance providers established near the LTO (Land Transportation Office).
Cebuana Lhuillier insurance policy has almost the same benefits with other insurance providers. Maximum benefit you can get from Cebuana Lhuillier insurance is Php100,000 at a cost of around Php300. Compare it to your current insurance provider. Other insurance providers offer a maximum benefit of Php 100,000 at a cost around Php700 to Php800.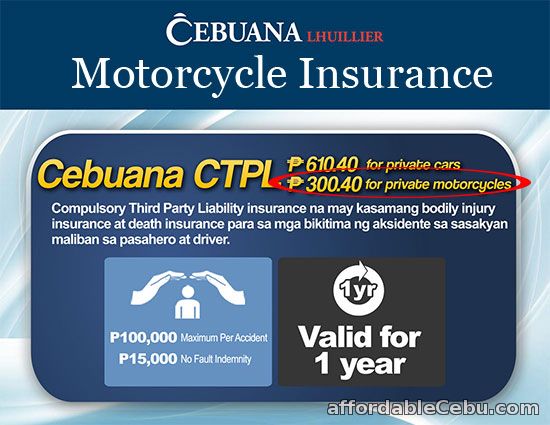 Another advantage if you avail insurance in Cebuana Lhuillier is the convenience and accessibility. You can claim the benefit of your insurance in any Cebuana Lhuillier branches. Imagine how many branches Cebuana Lhuillier has, all over the Philippines. For example, if you apply for an insurance in Cebuana Lhuillier Quezon City, you can claim the benefits in Cebuana Lhuillier Cebu City. Unlike other insurance providers where number of offices are limited.
I'm not endorsing Cebuana Lhuillier here. I'm just telling you to be wise in choosing a motorcycle insurance. If you're interested to apply or get a motorcycle insurance in Cebuana Lhuillier here's a very simple one-step procedure you can do:
Bring the latest OR (Official Receipt) of your motorcycle registration, the CR (Certificate of Registration) of your motorcycle and the Php300 payment and go to any Cebuana Lhuillier branch.
The processing of your application would normally takes 5 to 10 minutes depending on the number of clients served.
If you're having a problem getting a motorcycle insurance in Cebuana Lhuillier, don't hesitate to post it in the comment below. We would also like to know your opinion: why do insurance providers near the LTO office offer twice more expensive insurance cost?