If you're an Overseas Filipino Worker (OFW) who wants to apply a loan in BPI (Bank of the Philippine Islands), here are the procedures to do and the requirements needed to bring. This guide applies to Personal Loan application in BPI.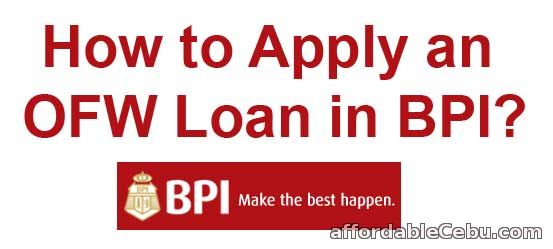 The eligibility requirements for OFWs in applying for a Personal loan are the following:
Must be a Filipino citizen
Between 21 and 60 years old upon loan maturity
Residing/working within the approved geographical lending area of BPI Personal Loan
OFWs with local agency (not direct hires abroad). ITR will be waived but you will need to submit proof of income and should be present during the application process, which includes Promissory Note/Disclosure Statement signing once approved.
Applicant should be present here in the Philippines, and able to visit any nearest BPI branch nationwide, during the application process. Our servicing unit does not conduct credit investigation if the applicant is outside the Philippines.
If you are qualified based on the parameters above, please prepare the following application requirements:
Duly accomplished application form
Must have an active BPI or BPI Direct account (BFB account not included). If not, client will be asked to open one.
Proof of income: Can be Original or Photocopy (If photocopy, it should be readable)
Also bring any of the following:
Active employment contract and POEA Overseas Employment Certificate or Latest POEA Customer Info sheet (OFW Information Sheet)
Photo-bearing government-issued ID (e.g. Passport, Driver's License, SSS, PRC, etc.)
*Additional income documents may be required during credit evaluation
How much can be borrowed?
You can borrow from Php 20,000 to Php 1,000,000 depending on how much you need. Your maximum loan amount, however, can only be up to 3 times your gross monthly income subject to the Bank's assessment of your application. There is no collateral requirement for Personal Loan application.
Interested applicants can submit all application requirements at any nearest BPI branch. Processing of your application will take 7-10 banking days upon receipt of complete requirements.
Please take note that once your loan is approved, you will need to be physically present in any nearest BPI branch since signing of loan documents must be done in the presence of a branch officer.
Upon approval of your loan, kindly visit the branch to sign the loan documents. Please note the following reminders in the crediting of your loan proceeds:
Loan proceeds will only be credited to a BPI or a BPI Direct account.
Existing depositors of BPI Family Bank will still be required to open a BPI account for the crediting of the loan proceeds.
Crediting of the proceeds will take 1 to 3 working days from signing of the loan documents.
A minimal processing fee of Php 1,500 will be deducted from your loan proceeds.
If you need further assistance or have other concerns, please do not hesitate to post them in the comment below.
Do you have any other concern in applying a loan in BPI?