Many Filipino women are now marrying foreigners particularly Americans. Planning to live in the Philippines together permanently might be one of their dreams. When times they need money to finance their dream home, condo or car, their search of loan application to certain banks begins.
One of our site users who has an american BF send us an email asking:
"my american boyfriend want to buy a condo in marikina. can he apply a condo loan in bdo (Banco de Oro) Philippines?"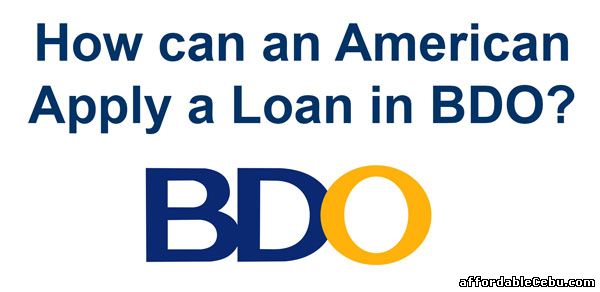 An American or a foreigner can avail a loan in Banco de Oro (BDO) to finance a condo. Banco de Oro is one of the largest banks in the Philippines. They offer flexible loan terms.
An American or a US citizen can avail a loan if he/she meets the following requirements:
Eligibility Requirements
At least 21 years old but not exceeding 65 years old upon loan maturity
Stable source of income from employment or business
Minimum gross family income of Php 50,000.00/month
If employed, at least 2 years with current company
If self-employed, at least 3 profitable years of operation (if with business) or 3 years practicing profession (if practicing professional)
The applicant must submit the following documents:
BDO Loan Application Form (to be secured in the bank)
1 valid government-issued ID with photo and signature (photocopy). You must also bring the original ID for further verification.
Marriage Certificate/Contract, if applicable (photocopy)
For foreigners (including American) bring photocopy of Alien Certificate of Registration (ACR) showing Visa status as permanent immigrant or Alien Employment Permit (AEP) or VISA ID
The following income documents should be also secured:
Latest Income Tax Return (ITR) or W2
Latest three (3) months payslips or Certificate of Employment

If self-employed:

Business Registration Certificates/Papers
Articles of Incorporation or Articles of Partnership
Latest Audited Financial Statements for the last 2 years with latest Income Tax Return
Bank Statements (latest consecutive 3 months)
Trade Reference: List of Suppliers and Customers (at least 3 each)
List of Affiliated Hospitals/Clinics (for doctors)
Least Contracts
Types of Visa Which Are Accepted for Foreigners
Quota or Non-quota immigrant Visa

 

Alien spouse of a Filipino citizen (Sec 13A Visa)

Natural-born Filipinos married to an Alien (Sec 13D Visa)
Returning Resident (Section 13E Visa)
Natural-born Filipinos naturalized in foreign country (Sec 13G Visa)

Photocopy of Special Retiree's Resident Visa (SRRV) or Quota/Preference Immigrant Visa

 

Permanent Resident Status and working Visa granted by Subic Bay Metropolitan Authority (SBMA)

 

Working Visa issued to Embassy Officials

 
There might be other documents you are required to bring. Visit any BDO bank for more details in applying for a loan.
Do you have any concern or problem securing or getting a loan in Banco de Oro (BDO)?