I have a friend (foreigner/non-Filipino). He wants to buy a condo through bank financing. He chooses ChinaBank. Do you accept foreigners (example: American) to loan? Can the girlfriend or wife co-sign? Please answers my questions. Hoping for your immediate reply.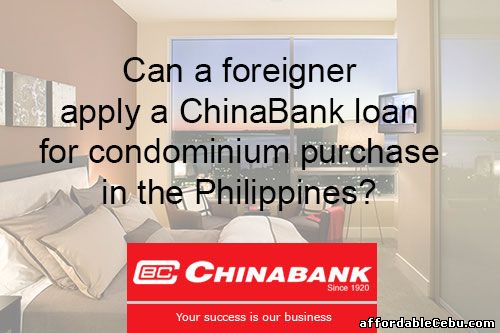 Answer
Yes, Foreigners or non-Filipinos may apply for a loan in ChinaBank provided that the attorney in fact, or co-borrower is living here in the Philippines.
For your possible co-maker or co-sign, kindly refer to requirements below:
IF EMPLOYED:
Certificate of Employment stating length of service and monthly
Income Tax Return or ITR (if any)
Special Power of Attorney (Bank Form)
2 valid ID's
IF SELF-EMPLOYED:
Certificate of Registration with the Securities and Exchange Commission (SEC) or Department of Trade and Industry (DTI)
Financial Statements (Audited)
Latest Income Tax Return (ITR) with Statement of Assets and Liabilities
2 valid ID's
Special Power of Attorney (Bank Form, 5 copies)
Preferably, co-maker needs to be related to you ( relative ) no specific salary ceiling needed. Still, it will be subject for credit approval process.
You can read more information of ChinaBank home or condo loan at http://chinabank.ph/personal.aspx?title=HomePlus+Loan
On the right portion of the site, the requirements for the different type of Home Loans may be displayed. There is also a Loan Calculator that will assist you in the computation of the monthly amortization of your planned loan amount. You may also contact our Loans Unit at 885-5555.
We hope this addresses your concern. If you need further assistance, please do not hesitate to post a comment below.