Overseas Filipino Workers (OFWs) work hard for the welfare of their families in the Philippines. You might be an OFW who wanted to make the most your hard-earned money by planning to build a house for your family or buy a car for family use or for business. In situations like these, financing or applying loan in a bank might be a main option to get what you want. China Bank provides a better financing solutions for OFWs. Even if you're currently abroad or outside the Philippines, you can apply a loan in China Bank. You might ask, "
How can I (as an OFW) apply a loan in ChinaBank?
". You may follow the procedure below: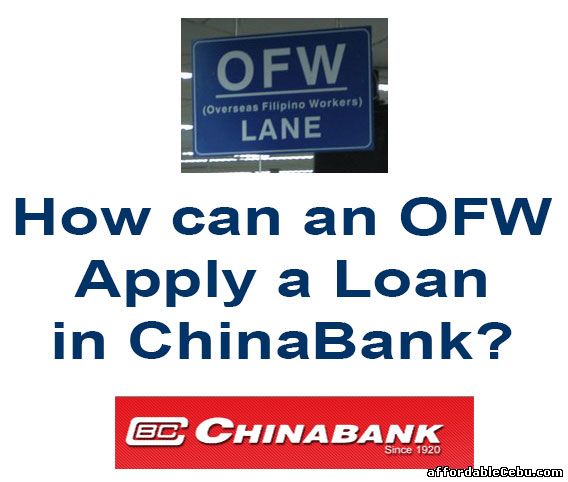 Loan applications can be submitted to any ChinaBank branches here in the Philippines. If you are currently abroad, you must have a representative or an Attorney-in-Fact, who can process your papers in your behalf. A Special Power of Attorney that is duly authenticated by the Philippine Consulate Office is needed. All other requirements that will be coming from abroad should be authenticated by the Philippine Consulate Office.
Kindly visit this link
http://chinabank.ph/personal.aspx?title=HomePlus+Loan
On the right portion of the site, the requirements for the different type of Home Loans may be displayed. There is also a Loan Calculator that will assist you in the computation of the monthly amortization of your planned loan amount.
For your possible co-maker here in the Philippines, kindly refer to the requirements below:
IF EMPLOYED:
Certificate of Employment stating length of service and monthly salary
Income Tax Return or ITR (if any)
Special Power of Attorney (Bank Form)
2 valid ID's
Certificate of Registration with the Securities and Exchange Commission (SEC) or Department of Industry (DTI)
Financial Statements (Audited)
Latest Income Tax Return (ITR) with Statement of Assets and Liabilities
2 valid ID's
Special Power of Attorney (Bank Form, 5 copies)
Preferably, co-maker needs to be related to you ( relative ) no specific salary ceiling needed. Still, it will be subject for credit approval process.
If you have any concern with applying a China Bank loan, please do not hesitate to post them in the comment below.