As an OFW, you can make your dream home a reality by applying a loan in Metrobank. Metrobank offers a competitive and affordable interest rates. Unlike employed or self-employed individuals and businesspeople, OFW's (Overseas Filipino Workers) have different requirements for applying a housing loan in Metrobank. You can follow the steps provided below on how to apply a housing loan in Metrobank:
Step 1
Prepare the needed requirements before going to the bank. Listed below are the standard application documents required:
Latest ID photo (1" x 1" or 2" x 2") of borrower and spouse (if applicable)
Photocopy of acceptable ID with photo and signature (passport, driver's license, employee ID).
Latest Income Tax Return (ITR) with W-2
Proof of other non-salary income such as Certificate of Deposits, Stocks/Bonds Certificate, Lease Contracts showing term and monthly payments, etc.
Photocopy of Marriage Contract or any applicable document to support civil status (if applicable)
Owner's Copy of Transfer/Condominium Certificate of Title (TCT or CCT)
Vicinity/Locatio Map and Lot Plan signed by a Geodetic Engineer
Floor Plan, as Built Plan or Schematic Floor Plan (if applicable)
Photocopy of Bank Statements and Passbooks for the last 6 months (if applicable)
Special Power of Attorney (Bank Form) consularized by the Philippine Consular Office
Consularized or Verified Employment Contract and/or Certificate of Employment and Compensation (COEC) with Payslips attached (as deemed necessary).
Proof of remittances/allotment with any local bank
Photocopy of passport
Additional documents may be required (depending on loan purpose):
For House Construction and Renovations Loans:
Floor and Building Plan, building specifications, bill of materials and construction and labor cost estimates
For Purchase of Condominium
Master Deed of Restrictions
Master Insurance Policy
Mother Transfer Certificate of Title (TCT) or CCT (if applicable)
For Purchase of Townhouse
Mother TCT or CCT (if the title of the townhouse is covered by a CCT)
For Refinancing/Take-Out
Statement of Account from mortgages bank
Step 2
Go to your branch of account (Metrobank branch where you've opened an account). Inside the bank, go to the Customer Service section and tell any bank employee that you want to apply for a housing loan. Ask for the complete list of requirements (the bank may require additional documents not listed on Step 1 (on the Standard Application Documents). The bank employee may require you fill-out a Housing Loan Application Form. Other requirements will be consolidated after the bank evaluates your application.
Metrobank Housing Loan Application Form (photo snapshot)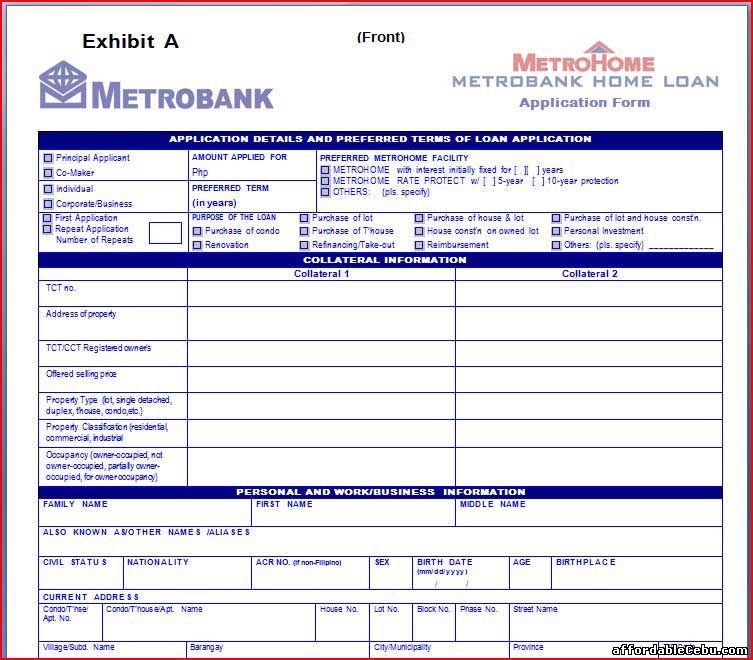 Download Metrobank Housing Loan Application Form Here
Step 3
Prepare to pay for the following fees:
Appraisal Fee - to be paid upon application - Php 3,000 - Php 3,500
Handling Fee - to be paid upon approval of loan/deducted from proceeds - Php 2,000
Inspection Fee - to be collected for construction loans only, upon every stage of completion inspection - Php 500 per inspection
Other fees and charges
Reminders
Additional documents may be required to facilitate the processing of the loan application
Please note that processing turnaround will be reckoned from submission of all the documentary requirements
Other post-approval requirements shall be submitted once loan is approved
Fees and charges may change without prior notice
If you have any questions, concerns or problems in applying for housing loan in Metrobank, feel free to ask them in the comment below.