If you want to earn more from your money on your savings account in BDO (Banco De Oro), why not try BDO's Time Deposit? The safest way to earn more from your idle money is to divert it to a time deposit account. You can earn from 0.50% up to 1.12% depending on your preferred term of placement (30, 60, 60, 180 or 360 days). Let's take for example on how much money you will earn if you allocate 10 million pesos on a time deposit account for 360 days. How much will you earn with that money in 360 days (1 year) given an interest rate of 1.12%? You will earn Php 120,000 in one year. How much more if you allocate 1 billion pesos in a time deposit account? You will earn a staggering Php 12 million in 1 year. It's equivalent to earning Php 1 million every month. So, you want to get started? Here's a simple procedure on how to apply for a Time Deposit Account in BDO?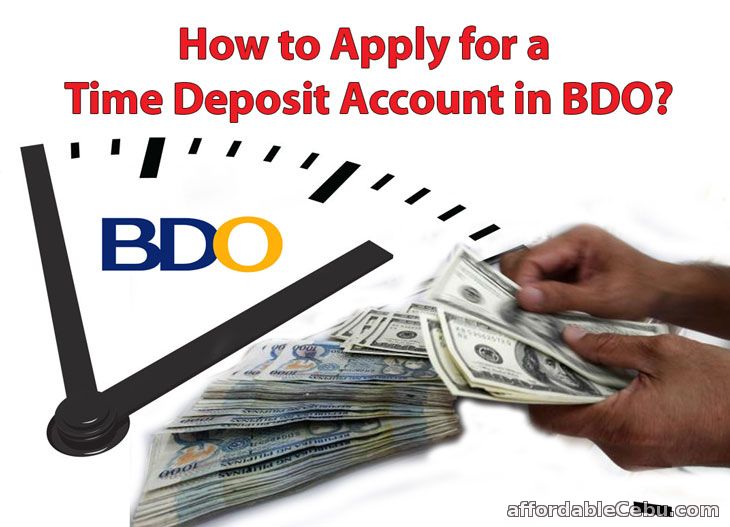 Step 1
You must be physically present at the time of account opening of your time deposit account in BDO. 
Step 2
Prepare and submit the needed requirements.
Requirements in Opening a Time Deposit Account in BDO:

Two government-issued valid ID documents and signed by an official authority bearing your signature and at least 1 of which bearing your photograph. (Original copy and clear photocopy of each of these two IDs).
Once colored ID picture (1 x 1 size) with white background
Minimum initial placement is Php 1,000 for Peso Time Deposit Account or US $1,000 for Dollar Time Deposit Account

Terms of Placement to Choose:

30 days
60 days
180 days
360 days
As stated above, interest rates ranges from .50% to 1.12%. The longer the term, the higher the interest which you can earn. Interest rates are INDICATIVE and are subject to change without notice. Please confirm with branch upon making placements. 
Step 3
Fill-out the application form and be ready to sign some papers. Remember to get the receipt for the money you deposit. You can receive your Time Deposit Certificate within the day or the following day.
Service Fees and Charges of BDO Time Deposit
Take note of the service fees and charges of having a time deposit account. BDO will deduct 20% withholding tax from the interest you earn on your time deposit. And if you terminate your time deposit account early or if you want to withdraw the money before the term ends, you will be charged a pretermination fee (penalty).
Do you have any concern or question in opening a time deposit account in BDO?