Like any major banks in the Philippines, you can get an ATM card from LandBank if you secure or prepare the needed requirements first. Without these requirements, LandBank will deny or will not accept your ATM account application. Save your time and money by following the steps below in applying a LandBank ATM card:
Step 1
Prepare and bring the needed requirements:
At least two (2) valid id's. Either 1 photo-bearing ID and 1 non photo-bearing ID or both 2 photo-bearing ID's.

Examples of photo-bearing id's which are accepted are:

Driver's License
School/Student's ID
Company/Office ID
Postal ID
Voter's ID
Social Security System (SSS ID)
Government Service Insurance System (GSIS ID)
Tax Identification Number (TIN ID)
Passport
Seaman's Book
OFW ID
Overseas Worker's Welfare Administration (OWWA) ID
Professional Regulation Commission (PRC ID)
Philippine Overseas Employment Association (POEA) ID
Consular ID
PhilHealth ID
Alien Certificate of Registration (ACR I-Card) - for foreigners/non-Filipinos
Permit to Carry Firearms
Armed Forces of the Philippines (AFP) ID
Home Development Mutual Fund (HMDF) or PAG-IBIG ID
Department of Social Welfare and Development (DSWD) ID
PRA Special Resident Retiree Visa (SRRV) ID
Senior Citizen's ID
Unified Multi-Purpose ID (UMID)
Police Clearance
National Bureau of Investigation or NBI Clearance
other government-issued ID's...

Examples of non photo-bearing valid ID's:

National Statistics Office or NSO Birth Certificate
Marriage Certificate (NSO Authenticated)
Baranggay Clearance/Certificate (Certificate of Residency)

Two pieces 1" x 1" ID picture. Recent and formal ID picture is recommended.
Initial deposit (Php 500). But you can deposit more than this.
Tax Identification Number (TIN), if employed.
Proof of Billing
Tip: Photocopy the valid id's you want to bring. You can make 2 or 3 copies each. Those extra copies can still be used for your future need whenever you apply for another valid id or when you do other financial, banking or business transactions. For security and safety purposes, you can keep this requirements inside a plastic folder or envelope.
Step 2
After securing the needed requirements, you can now go to your preferred LandBank branch. Inside the bank, go to the "New Account" section. If you don't know where the "New Account" section is, just ask the security guard or any bank officer where to open a new account. The bank officer will gladly respond to your concern.
Step 3
The bank officer will process your application. Get the requirements and be prepared to fill-out an application form and some documents.
After filling-out and signing-in the documents, give your initial deposit. You will then be given a deposit slip or a claim stub.
Claiming the LandBank ATM Card
You can claim your ATM card right away on the day you open an ATM account.

The LandBank employee will process the printing of the details of your ATM Card (account name, account number, card number). Those information will be printed thru their Card Printer Machine.
Pictures of LandBank ATM Card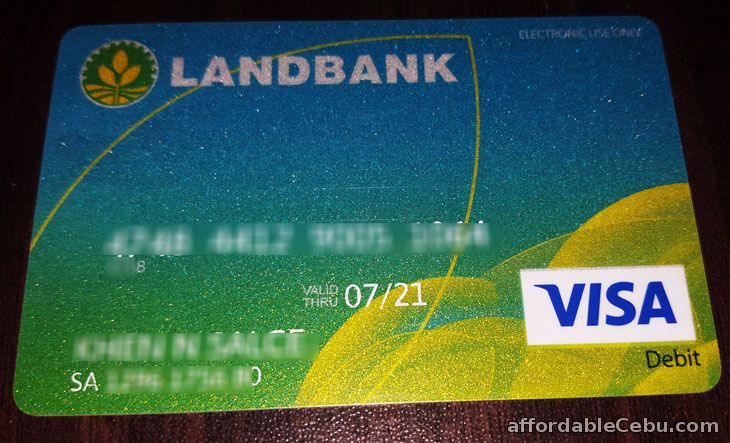 New LandBank ATM Card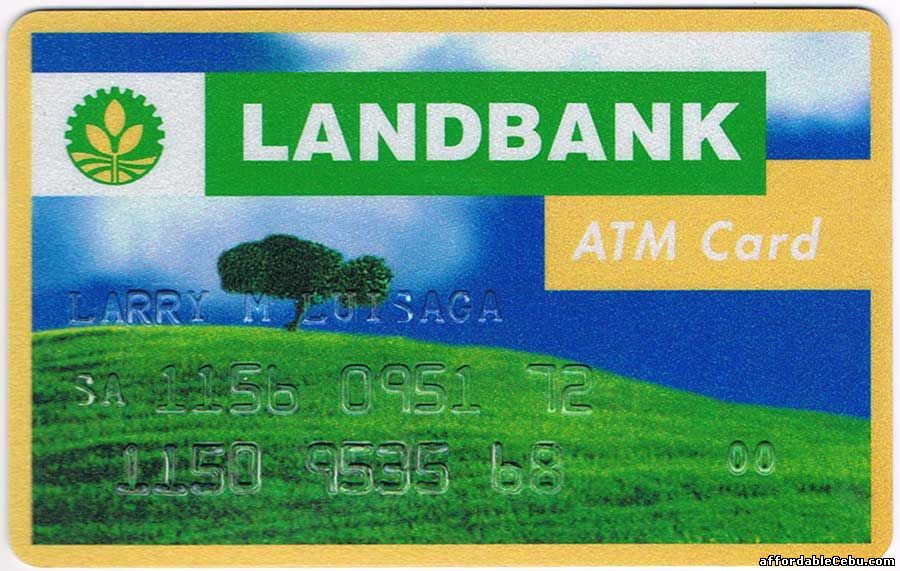 Old LandBank ATM Card
Frequently Asked Questions?
How much is the maintaining balance of the LandBank ATM Card
How much is the service fee/charge for falling below the required maintaining balance?
How much is the interest rate that the ATM can earn?
How much can is the maximum amount that can be withdrawn in a day?
How much is the maximum amount of Express Payment System (EPS) transaction can be done in a day?
I'm a foreigner or non-Filipino, what are the requirements?
You can bring your Alien Certificate of Registration (ACR-Card), birth certificate, your passport, driver's license, barangay certificate or any other valid id's.
Is there a charge or a fee when I close my account?
Yes. When you close your ATM account within 30 days from date of opening, you will be charged with Php 200.
What if I didn't deposit or I didn't withdraw in my ATM in two years? What will happen to my ATM?
Your ATM will become dormant and you will be charged with a dormant fee of Php 200 per month.
What if I lost my ATM card? How much is the replacement fee?
Replacement fee is Php 50.
Do you have any concern or problem in opening or applying a LandBank ATM card?