For an average or ordinary client of Bank of the Philippines Islands (BPI), the typical type of ATM card that BPI offers is its BPI Express Teller Card. To apply or open for this type of ATM card, just follow the procedures below:
Step 1
First you must prepare and bring the following requirements for applying/opening a BPI ATM Card:
    > School ID
    > Company ID
    > NSO Birth Certificate
    > Barangay Clearance
    > Postal ID
    > Voter's ID
    > Driver's License
    > Police/NBI Clearance
    > etc...

b.) Two pieces 1x1 colored picture
 
b.) P3,000 initial deposit in order to avoid maintaining balance penalty
Step 2
Go to a nearest or to your chosen BPI branch. Inside the BPI branch, go to the New Account section and tell a bank officer that you want to apply for an ATM Card.
Step 3
The bank officer will now process your application. She/he will give you an application form to fill-out. After processing the papers, the bank officer will give you a deposit slip.
Claiming your BPI ATM Card (Waiting Period)
You can claim your ATM card after 7 days (1 week). So, you must go back after a week to claim your new ATM card. Don't forget to bring and present your deposit slip and your valid id upon claiming.
Pictures of a real BPI Express Teller ATM Card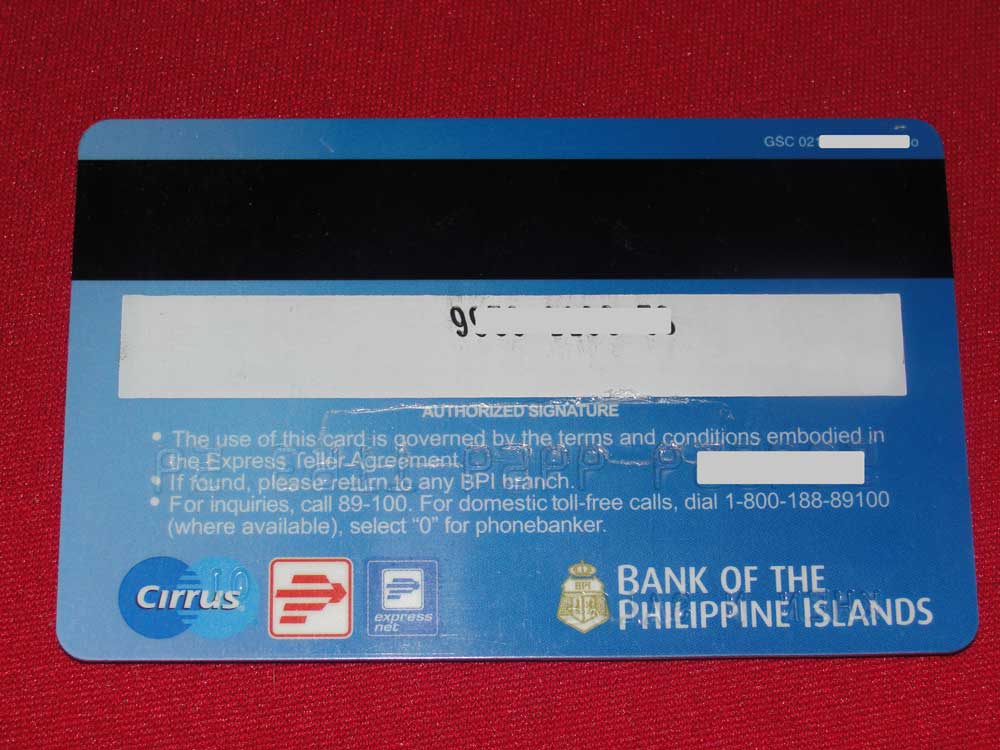 Logos which can be found at the back side of this BPI ATM Card are Cirrus and ExpressNet.
Maintaining Balance
Required maintaining balance (monthly Average Daily Balance) for this ATM card is P3,000 to avoid penalty or service charge. Likewise, the required maintaining balance in order to earn interest is also P5,000.
Falling Below Maintaining Balance Penalty (Service Charge)
If your account balance falls below the required maintaining balance, BPI will charge P300 (per month).
What you can do with your BPI Express Teller ATM Card
Withdraw money, transfer funds or free balance inquiry on any ATM with Cirrus or Expressnet logos.
You can use it to purchase on any BPI-affiliated Merchants such as in SM malls, Gaisano malls, Emall, Robinson's malls, in gasoline stations, appliance stores, etc.
You can use it to access or inquire your BPI account balance online and pay your bills (electricity bills, water bills, phone/cable tv bills, etc.) through ATM, online banking and mobile banking.
...and many more.
Do you want to apply for a BPI ATM card?