One of the largest commercial banks in the Philippines, Landbank is proud to offer its
online banking
facility, the
Landbank iAccess retail internet banking (LBPIAccess).
This online banking system is available only to existing
Landbank ATM
accountholders. So, you need to have an ATM account with Landbank in order to apply for its online banking. Other types of deposit accounts you can enrol are:
Savings Account with ATM access
Current Account with ATM access
Interest Bearing Current Account with ATM Access
Regular Current Account
Regular Interest Bearing Current Account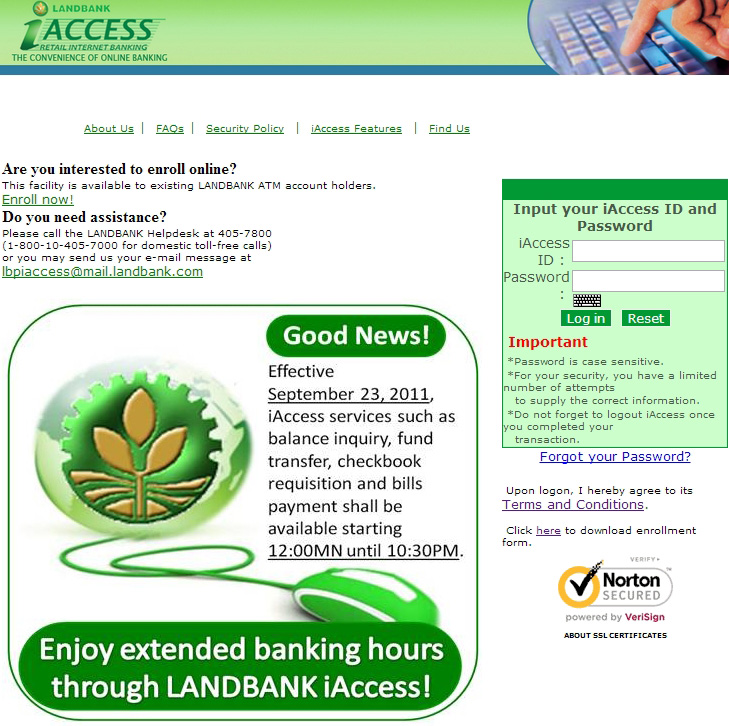 Landbank Online/Internet Banking Website: www.lbpiaccess.com
There is no fee or charge in applying for Landbank online banking. If you already have an ATM account with Landbank, then you can apply for its online banking.
You have two options to enroll your LandBank account to LandBank's iAccess facility:
Thru Online Enrollment
Thru Branch Enrollment
How to Enroll in LandBank iAccess (LBPIAccess)?
Note: This enrollment procedure is applicable only for individual, private or ordinary LandBank accountholders. This is not applicable to corporate accounts.
Step 1
Go to the official retail online banking website of LandBank (
https://www.lbpiaccess.com
). Take note of the
https
at the beginning of the domain name/website. That is the secured and official retail online banking website of LandBank.
Step 2
On the homepage of
https://www.lbpiaccess.com,
click the
"Enroll now!"
link.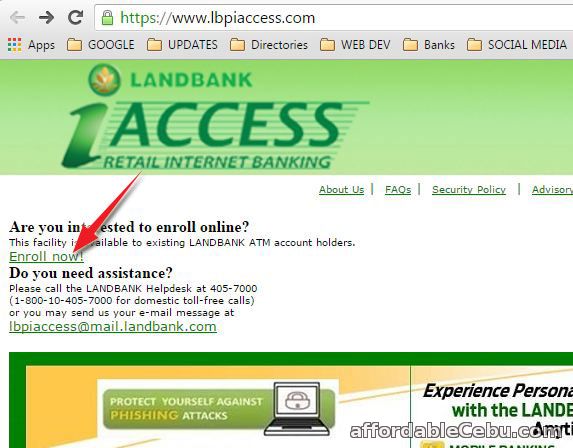 Step 3
You may read the General Terms and Conditions, then click the "I agree" button.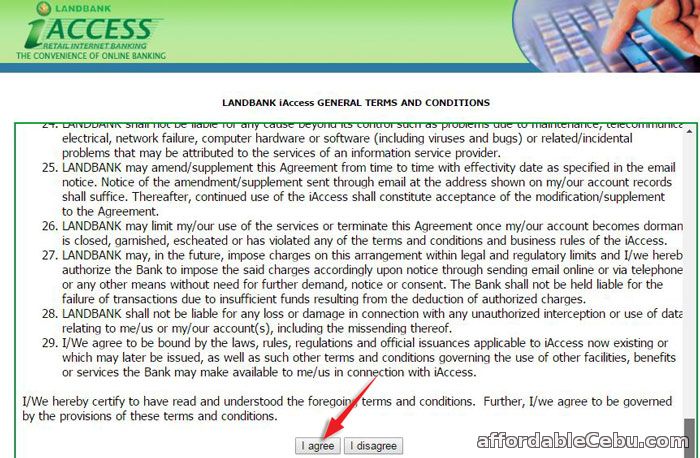 Step 4
Fill-out the Enrollment Form appropriately.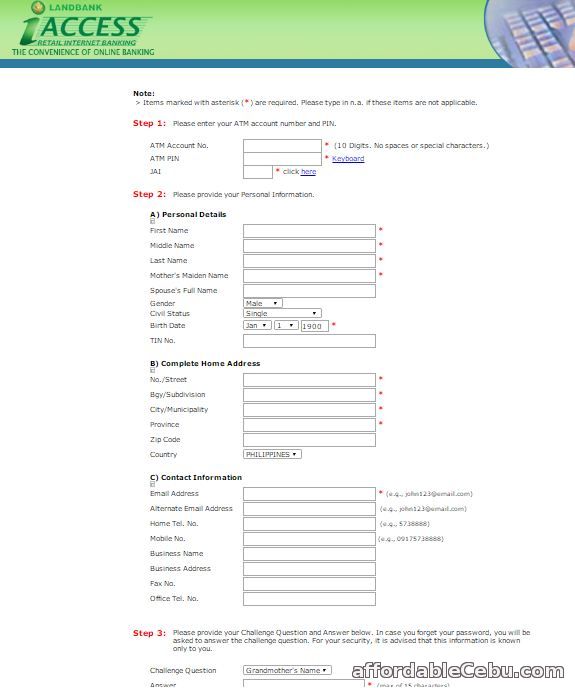 Step 5
This is the final step. Review the information you've entered. You can go back by clicking the "Back" button to edit your information. After careful review, click the "Confirm" button to continue the Enrollment process.

Then, you will be redirected to the acknowledgment page for a successful registration of your LandBank account.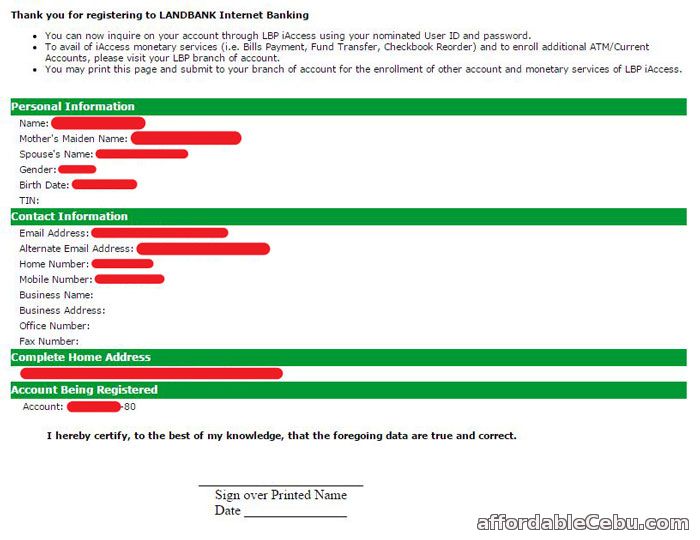 At the same time, you will receive a message to your email (enrolled email address):

---
Dear ***** ******,


Thank you for enrolling your account in LANDBANK iAccess. Our retail internet banking facility will allow you to do selected banking transactions online. You may start inquiring about your account using iAccess immediately upon enrollment. To avail of the iAccess monetary services, please visit your depository branch.

For queries, comments or suggestions, please call 632-405-7000 (or e-mail us at lbpiaccess@mail.landbank.com.


Thank you for banking with us.

Your LANDBANK iAccess Team
---
To fully enjoy its features and services, you must enroll thru a LandBank branch. Just follow the steps below:
How to Enroll in Landbank Online Banking (iAccess) Thru Branch Enrollment?
Step 1
Bring a
valid id
, your Landbank ATM card or any deposit accounts mentioned above. Prepare your Landbank account number. And go to a nearest or chosen Landbank branch.
Step 2
Step 3
After processing the forms and other papers, wait for the bank officer to decide when will be the activation of your online banking account. Follow the bank officer's further instructions.
What you can do with Landbank's internet/online banking
You can access your account, inquire balance, pay bills (telephone, cellphone, electricity, cable tv service, insurance, water bills) online and transfer funds anytime, anywhere. And this is the power of internet banking. With a click of a mouse, you can transact or do banking in a convenient way. No need to fall in line in the bank.
There are other features of Landbank online banking you can enjoy:
View transaction details (account history) of your account for a period of 60 days.
Fund transfer
Order checkbooks online.
Report lost or stolen ATM card and the Customer Service agent will block the ATM transactions. This means that those who found your ATM card cannot withdraw or transfer money or do any ATM transactions.
Inside LandBank iAccess (LBPIAccess) Retail Internet Banking
Welcome Page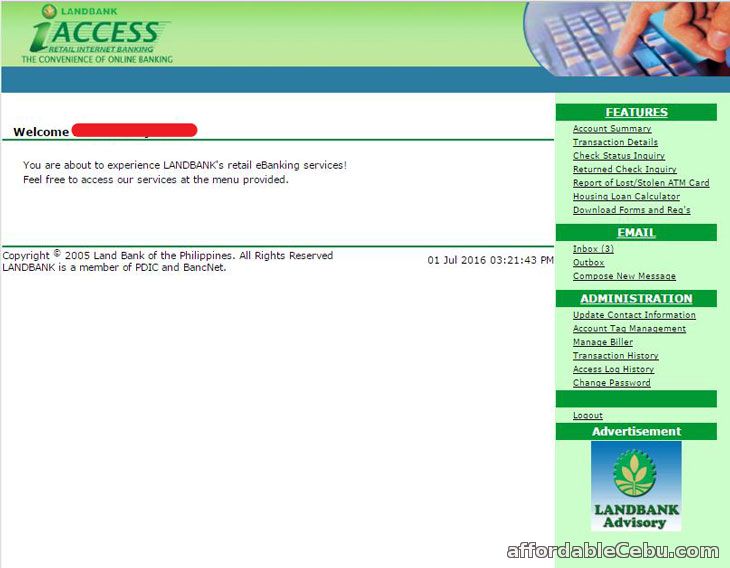 Account Summary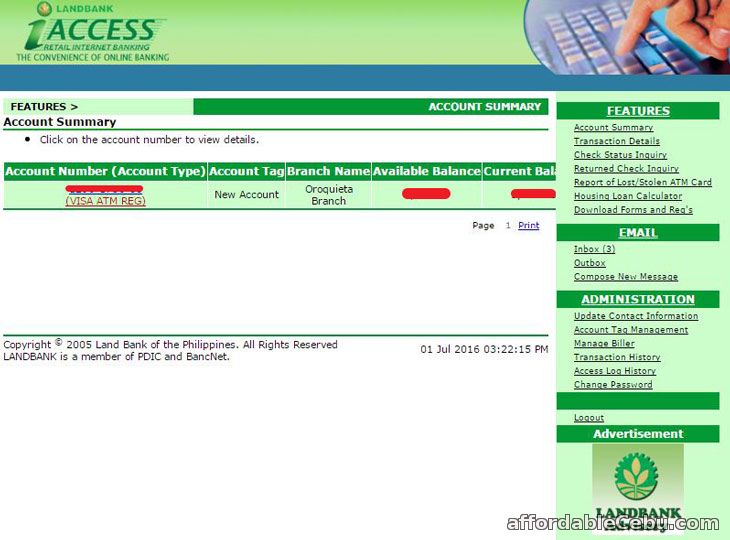 Account Statement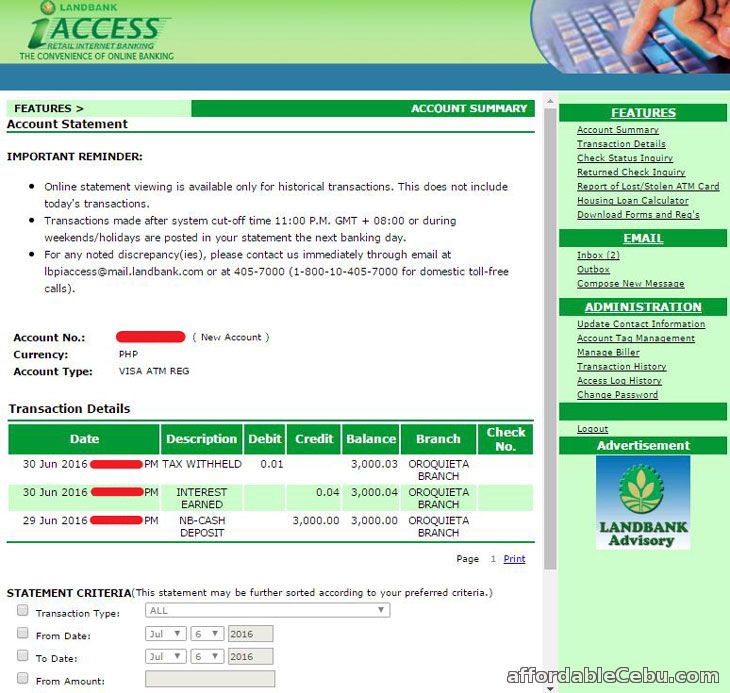 Problem in Logging-in To Your Account?
If you're having a problem with logging in to your account such as "Invalid User ID or Password" everytime you log-in, this article might help you:
Help your friends and family make their banking transaction easier and convenient with LandBank online banking. Share this post to them.