We cannot deny the fact that LandBank is one the top and biggest banks in the Philippines.
Though it ranks at the top, LandBank is very slow in terms of online banking innovation.
Look at their
iAccess Internet Banking
website. It's ugly and unprofessional to look at.
You might be scared to enter into the website as it looks suspicious.
When I first enrolled into LandBank's iAccess internet banking, I encountered a problem after I finished the enrollment process and when I first logged-in to my account. You might encounter this problem too!
What's the problem all about?
When I enter or input my iAccess ID and Password, a pop-up notification says,
"www.lbpiaccess.com says: Invalid User ID or Password"
. Here's the screenshot of the error:


Did you also get the same error? This is a problem for most first-time LandBank iAccess users who enroll their account online.
How to fix this "Invalid User ID or Password" in LandBank iAccess?
Very simple. You must reset/change your password by clicking the "Forgot your Password?" link located below the login box.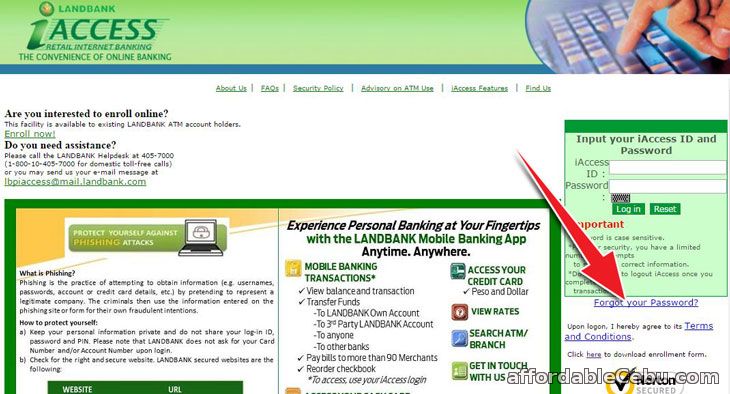 But first you must enter your iAccess USER ID correctly, then, click the "Forgot your Password".

Then, answer a challenge question such as name of your grandmother or other question you've set during the enrollment process.


After you've answered the challenge question successfully, you may now enter a new password.

You will then receive a confirmation message to your email.

And you can now log-in to your LandBank iAccess account using the new password.

Did you successfully enter to your LandBank iAccess account? Or do you still have any problem logging in?

If you still have a problem logging-in, could you please explain what happen and what did you do. I maybe able to help you.