At times that you lost or forget your
password
or your
user id
on your Chinabank's online banking account, you can follow these procedures below in order to recover them.
Procedure on How to Recover Lost or Forgotten Password
Go to Chinabank website (http://www.chinabank.ph) and click the "Forgot your password" link.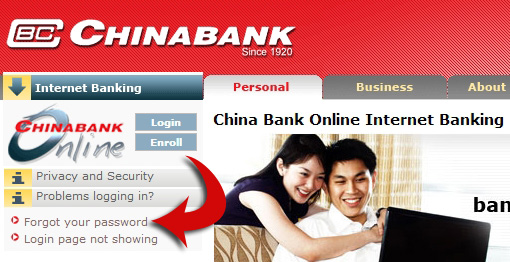 You will be redirected to a new page and prompted to enter your USER ID and EMAIL ADDRESS in the fields.
If entered correctly, you will receive a message on your email that shows instruction/information of your lost password.
Procedure on How to Recover Both Lost/Forgotten Password and User ID
Call Chinabank's ATM Center at telephone numbers (02) 885-5423 or 885-5425 and request a new set of passwords or request for your current User ID. Be ready to answer some questions for identity verification. You will be instructed to pick-up the password mailer in your branch of account.
Another option is to send a message to Chinabank's online banking email addresses:
online@chinabank.ph
ebankingmktg@chinabank.ph
Do you want to recover your lost User ID and Password?
-
https://www.affordablecebu.com/