One of our site visitors is asking this question,
"Is it allowed by BPI to use two ATM cards with the same account number? I want to use one for me and one for my mother. Both atm card should have the same account number or one account number."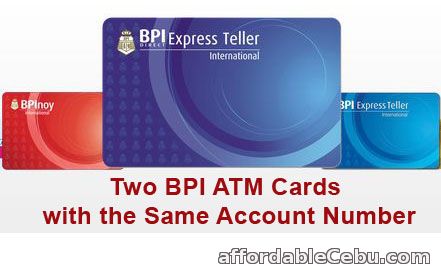 Answer
You may choose to open a BPI joint ATM-based account so you and your mother will be issued ATM cards that are linked to the same account number. Kindly note that when you open a joint account, both accountholders should be present at the branch upon account opening. You may visit any of BPI/BPI Family bank branches and bring the following requirements:
at least 1 valid ID per accountholder (ie. passport, SSS ID, driver's license, etc)
Php 500 Initial Deposit Requirement for a regular ATM Savings account
two 1x1 ID picture per accountholder
contact numbers
Please note that the maintaining balance for the joint-account is Php 3,000 for BPI and Php 1,000 for BPI Family Savings Bank.
Tips
Joint-accounts can be very useful for OFWs in sending money from abroad to the Philippines. Joint-accounts can be enrolled to BPI's online banking facility called BPI Express Online. With just a click of a mouse, you can transfer money to your love ones anytime and anywhere.
You can pay your bills (e.g. electric bills, phone/internet bills, etc.) online with your joint account.
If you need further assistance or have other concerns, please do not hesitate to post them in the comment below.