If you do not associate your BDO ATM Card PIN number/code to your birthdate or memorable dates or if you don't write your PIN number to a paper or phone, you will most likely forget it.
Then, time comes that you need to withdraw cash from your BDO ATM card but you forgot your PIN number. Then, you might think what will happen if you enter a wrong PIN number multiple times? What should you do if you forgot your BDO PIN?
If you enter a wrong PIN number after 3 tries, your BDO ATM card will become inaccessible (locked) for 24 hours. You have a maximum of 3 tries to enter your BDO PIN to an ATM machine.
You might think, "
If I forgot my ATM PIN, I will just tell my BDO branch of account to change my ATM PIN
".
Does BDO allow atm cardholders to change their ATM PIN due to forgetting it and lost a copy of it?
No
.
BDO doesn't allow that. They require their atm cardholders to
replace the atm card
of those who forgot their atm pin or those who lost a copy of their atm pin. I'll tell you why at the bottom part of this article.
So, how can you replace your BDO ATM card?
Step 1
You need to go to a BDO branch and request for a
BDO ATM card replacement
. Bring your ATM card. It's BDO's policy to have your ATM card replaced if you completely forgot your ATM PIN. BDO doesn't allow ATM PIN retrieval. You cannot recover your forgotten ATM PIN in the BDO bank.
Step 2
Fill out the
BDO ATM Debit Card Application form
and checked the Replacement box.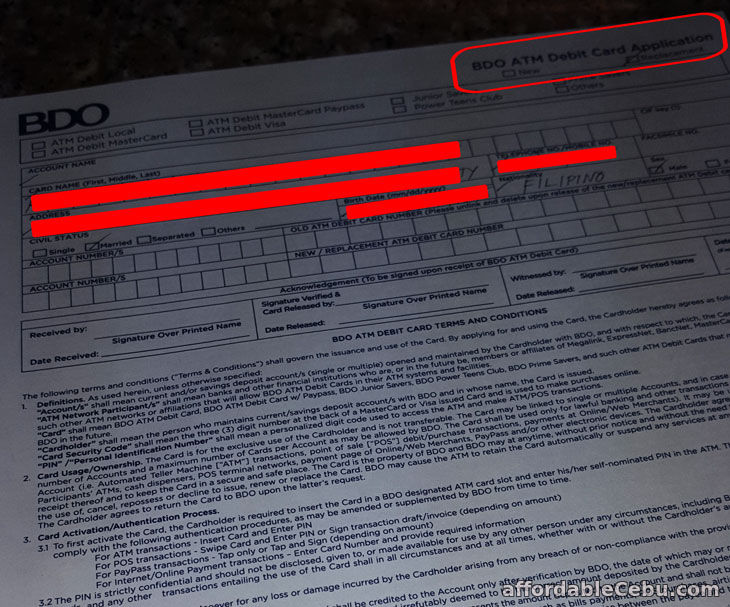 Step 3
Pay the Replacement fee which costs Php 150.00. This may increase without prior notice.
Step 4
Wait for 7 banking days and claim your new BDO ATM card and your newly generated ATM PIN.
Again, you might say, "
Why does BDO don't allow those who forget their ATM PIN to just change PIN or ask new PIN?
"
In my opinion, BDO treats an ATM PIN with utmost privacy. It's a very private sensitive data that no one should know except you.
Do you remember when you applied for an ATM card, your ATM PIN is printed inside a color black-sealed paper. This ATM PIN is generated in their main office in Manila and even the operator of the printing machine there doesn't know the PIN number inside.
After your ATM card application, this ATM PIN printed inside a paper is either mailed to your BDO branch of account or directly to your home/office address.
BDO don't allow any BDO branch to print your ATM pin. It might cause data privacy breach if they allow it.
BDO employees are humans too who might be tempted to steal ATM PINs which they can sell to those who make fake ATM cards.
That might compromise your money on your ATM card.
Take Note
Your old BDO account number remains the same. Only your BDO ATM card number and your PIN will be changed.
Make sure you use an ATM PIN that is related to your memorable dates (not birthdates), lucky numbers, or related to your mother's maiden name. You can invent your own number-coding system for ATM pins.
Thoughts to BDO
I have an idea. I suggest BDO should create an
online ATM PIN retrieval
or
online ATM PIN change
for BDO atm cardholders. BDO can use their existing online security feature the OTP to retrieve or change ATM PIN. I hope BDO will notice my post and give this a try.
Do you want an online ATM PIN retrieval for BDO atm cardholders? Generating your ATM PIN online can be a great convenience than going to the bank and have your ATM card replaced. -
https://www.affordablecebu.com/