Due to your busy life, you might accidentally lost your Metrobank Passbook. If it's not lost, it might be stolen by someone else. And you might be terrified because of the amount of money you have deposited into it. What should you do if you lost your Metrobank Passbook? What are the requirements to submit? How much is the replacement fee of the lost Passbook?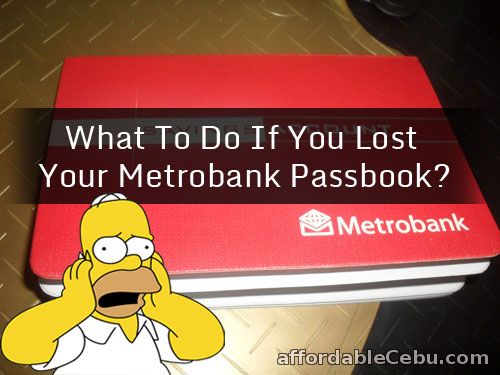 Step 1
Prepare and bring the following requirements:
2 photo-bearing valid ID's (for identity verification)
Affidavit of Loss or Declaration of Loss (ask the Metrobank branch whether you are required to notarize the Affidavit of Loss. It may depend on the amount of deposit on your Passbook)
about 200 pesos for the replacement fee.
Note: Notarization must be duly signed by a certified lawyer. Go to a Notary Public for this matter.
Step 2
Visit your Branch of Account (BOA) or the Metrobank branch where you opened the Passbook. Go the Customer Service or New Accounts section of the bank and tell the bank officer (bank employee) that you lost your Passbook. 
Take note that passbook replacement can only be facilitated by your branch of account. Kindly visit them for the fulfillment of your request.
Step 3
The bank will will collect a fee of Php200 (this is the Metrobank Passbook Replacement Fee).
When can you claim the new Metrobank Passbook?
You can claim it after you submit the complete requirements.
Notes and Tips
The bank might change your account number for security purposes. So don't be surprised if you have a new account number.
You old account number (of your lost Metrobank Passbook) might be locked to avoid unauthorized access or to avoid compromise.
-
https://www.affordablecebu.com/