Sometimes in your busy life, you neglect to keep your BDO Passbook safe. You keep on searching the lost BDO Passbook inside your house or in your office. You might forget the Passbook and misplace to somewhere else. Or someone might stole it. You're worried because it is where you keep your hard-earned money right? Then, these are the steps you should do if you lost that precious Banco de Oro (BDO) Passbook.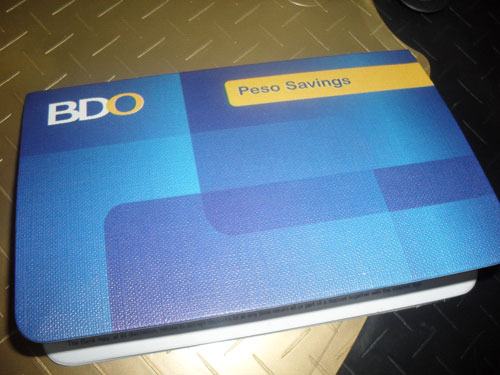 A BDO Passbook
Step 1
Prepare and bring the following requirements:
2 valid ID's. 
Declaration of Loss (notarization not required)if the account balance is equal to or less than Php 20,000.00 or US$ 1,000.00, 

or 

Affidavit of Loss (notarization required-by customer) if the account balance is more than Php 20,000.00 or US$ 1,000.00.
100 pesos for the replacement fee/charge of Passbook
Note: Notarization is duly signed by a certified lawyer. You can go to the Notary Public for the notarization.
Step 2
Visit your Branch of Account (BOA) or the BDO Branch where you opened the Passbook. And go to the Customer Care/Service Section of the Bank and tell the bank officer that you lost your Passbook.
Step 3
Your Branch of Account will collect a fee of 100 pesos (this is the BDO Passbook Replacement Fee).
Do you have any concern with your BDO Passbook?
-
https://www.affordablecebu.com/