Your BDO (Banco de Oro) ATM card has an expiration date. Why? BDO set this up to let their ATM accountholders like you to update their personal information to the bank. Is your name been changed or corrected? Do you change residential address? Have you been married or divorced? And also to automatically block expired BDO ATM cards from point-of-sale (POS) transactions, eCommerce or online transactions and from international ATM withdrawals. On the other hand, what should you do if your BDO ATM card expires? What are the requirements to bring to the bank? Can you still withdraw the money from an expired ATM card?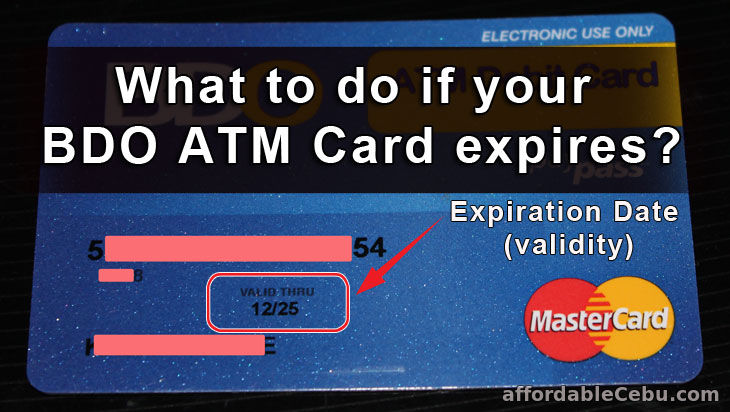 Answer
According to the Banco de Oro (BDO) Customer Service Representative,
"Please be advised that if your BDO ATM Debit MasterCard expiry is expired last year, you may still use the card for ATM withdrawal at any BDO or local ATM.

However, Point-of-Sale (POS) and eCommerce/Online and international ATM withdrawal transactions will NOT be allowed anymore.

Please have your BDO ATM Debit MasterCard replaced at your BDO branch of account immediately. This is subject to a replacement fee of Php120. Embossed card will be available for pickup after 5-7 banking days from the day of request. While pre- embossed is available on the same day of request.

Please also bring 1 valid ID."
Remember the following things when your BDO ATM card expired:
You can still use the ATM card for ATM withdrawal at any BDO branch or any local ATM (machines) in a different bank
Point-of-Sale (POS) transactions are not allowed.
Ecommerce or online banking withdrawal transactions are not allowed.
ATM withdrawal abroad (outside Philippines) is not allowed.
Bring your BDO ATM card, a valid ID and a 120-pesos replacement fee upon atm card replacement.
Do you have any other concern with your expired BDO ATM card?
-
https://www.affordablecebu.com/