You might be a victim of a scam.
You've sent money thru Palawan Pawnshop to a person whom you've known later as a scammer. 
You're now terrified and angry to the unknown scammer.
And then, you may ask "
Can I get back my money I sent to a Scammer thru Palawan Pawnshop?
"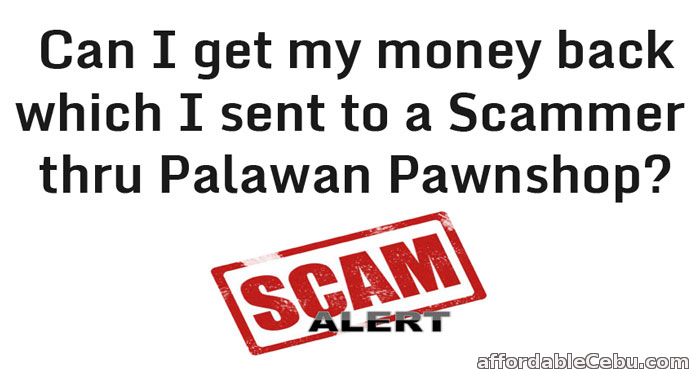 Answer
If you think Palawan Pawnshop will give your money back, you are wrong. No. Palawan Pawnshop is not liable in such case. It is your responsibility that you've sent the money to the person you didn't know and later known as a scammer. 
But Palawan Pawnshop can help you recover your money from the scammer. How?
According to their Palawan Express Pera Padala (PEPP) Terms and Conditions number 17 to 19:
 

"17. For transactions reported by the Sender as fraudulent, request for information by the Sender shall be evaluated by management and processed only upon submission of pertinent documents. All other request for information by persons other than the Sender, shall be disclosed by PEPP only to authorities and only when legally compelled by a valid subpoena or similar legal process."

 

"18. Complaints regarding this remittance must be submitted in writing and received by the PEPP location where the Sender placed his remittance within fifteen (15) calendar days from date of remittance. Any complaint after said period shall no longer be accommodated."

 

"19. All claims or suits regarding this transaction shall be filed in the courts of Puerto Princesa City, Palawan only, to the exclusion of all other courts."
Submission of Pertinent Documents
When you request for information for example personal information of the Receiver (Scammer), his name, address, phone number, etc., you are required to submit the following documents:
Formal Letter of Request/Complaint (include date/s, branch and location, list of involved items and monetary value of the items). Please try to provide as many details as possible in the letter. Also include your claims/demands as a customer. And state the purpose of your request (clearly specify where it will be used)
What To Do Afterwards and Where to Submit the following Documents
For fast response, make a two scan copies of each of those documents. You may submit the first scanned copy to the Palawan Pawnshop branch where you send money from. And other copy will be sent to Palawan Pawnshop Remittance Department email address:
Take note you must submit the documents within 15 days from date of remittance (the date when you sent the money to the scammer). Or else, your complaint will be denied.
If you're planning to file a case/lawsuit to the scammer, you should file it in the courts of Puerto Princesa City, Palawan according to their Terms and Conditions.