This is a question and answer portion. After the question is an answer provided. You can also ask any questions. We will be happy to answer your queries.
Dear affordableCebu,
Where can we find the account number of a Metrobank ATM Card?
- asked by nono
 Answer
You can find the
account number just below the account name of the Metrobank ATM Card
. Like what you can see in the photo below: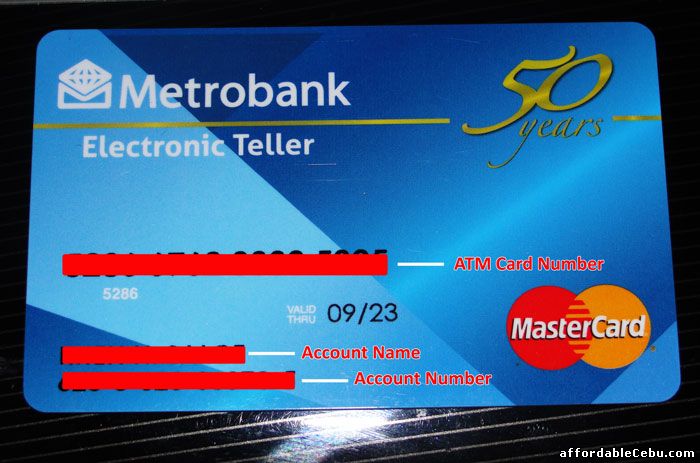 Metrobank ATM card (photo)
The account number is found at the lowest left corner of the ATM Card. Some of the reasons why you don't exactly know your ATM account number are:
You forgot it.
You don't memorize it.
The printed account number faded in the ATM card.
You lost a copy of your account number.
To help you avoid forgetting the account number of your Metrobank ATM, write your account number on your phone or in a piece of paper inserted inside your wallet.
In case you totally lost and forgot your account number, you must go to your depository branch or any Metrobank branch or call Metrobank Customer Service at (02) 870-0700 or 1-800-1888-5775 and ask to retrieve your account number. When visiting a Metrobank branch, don't forget to bring at least two valid id's for identity verification.
-
https://www.affordablecebu.com/