CVV
stands for
Card Verification Value
. It is a
security code
used to prevent or reduce credit/debit card fraud. It is a very important feature needed in money transfer or when purchasing products/services online. If you are confused where to find the CVV or security code of BDO ATM card, here's your guide below:
How to find the CVV or Security Code of BDO ATM Card?
It can be found at the back of your BDO ATM card. Look for the last 3 digits. That's the CVV or security code.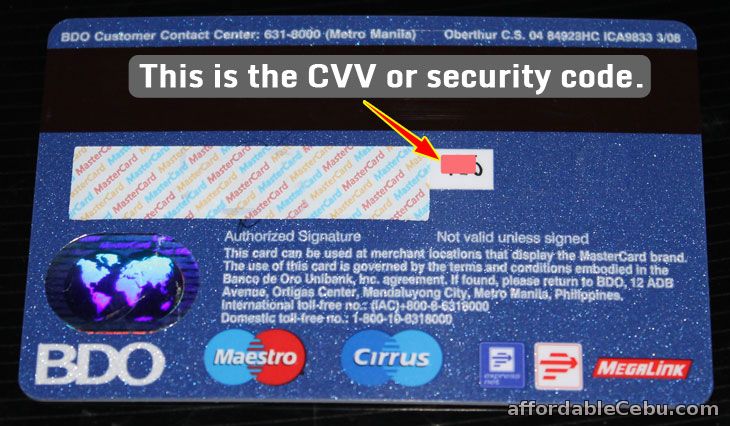 Rear-view of BDO ATM Card
Card Verification Value (CVV) is also called by the following names:
Card Verification Data
Card Verification Number
Card Verfication Value Code
Card Verification Code (CVC)
Verification Code (V-Code)
Card Code Verification
Signature Panel Code (SPC)
Card Identification Number (CID)
Unique Card Code (UCC)
Card Validation Code (CVC2)
Elo Verification Code (CVE)
Card Validation Number 2 (CVN2)
Card Verification Value 2 (CVV2)
Are you still having a problem finding the CVV of your BDO ATM Card?