Provided here are the essential information and steps in getting death certificates in Cebu, Philippines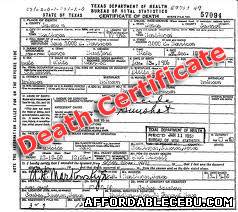 DESCRIPTION :
This service issues certifications related to death as on file with the Civil Registry Office, certified transcription, certified copies of records on file per Administrative Order 1, s. 1993 of Act 3753.

CLIENT/S : Cebu City residents/Parents or authorized representative
CONTACT PERSON/S:
Oscar B. Molo, Registration Officer
Contact/Telephone Number: 232-6664

LOCATION : Office of the City Civil Registrar (OCCR) Cebu City
AVAILABILITY :   Monday to Friday, 8:00 AM- 5: 00 PM
DURATION OF THE SERVICE: 33 minutes
REQUIREMENTS:
Valid ID with picture
Authorization Letter w/ valid ID of document owner/parents for authorized representative
FEES (How much to pay for getting Death Certificate):
Php 50.00 for local use;
Php 100.00 for use abroad
PROCEDURES IN SECURING OR GETTING DEATH CERTIFICATE IN CEBU
Follow these steps…

Wait while Person-in-charge…

Approach…

It will take…

1. Get request forms (RF) from W1 and fill-up data

1. Hand over request form.

Janice Dingding

2 minutes

2. Pay at Window 3

2. Issues Official Receipt (OR).

CTO personnel

10 minutes

3. Submit RF and OR to Window 2 for verification of ID, authorization letters and data and assignment of Transact No.

3. Receives and assess documents submitted.

4. Assigns Transaction number.

Jerene Montejo
/
Romeo
Tumulak

5 minutes
4. Place accomplished RF in box at window 9

5. Searches the record, encodes, prints and have it signed

Glenn Morales

3 minutes

5. Wait as record is searched,  typed out and signatures affixed

10 minutes
6.  Get issued document/s  at Window 8 when called

6. Releases document.

3 minutes

Source: Cebu City Citizen's Guidebook
This information appeared first on the 2009 Version of the Cebu City Citizen's Guidebook published by the Cebu City Government through the efforts of the Mayor's Management Team.