The Private School Health Officers' Association (PSHOA), Inc. will hold its 31st Anniversary and 30th Annual Convention with the theme,
"PSHOA, as it Consolidates the Latest Info, Concepts and Knowledge in School Health! (PSHOA CLICKS)
on April 7-8, 2011 at the New
Bayanihan
Center, United Laboratories, Inc., Mandaluyong City.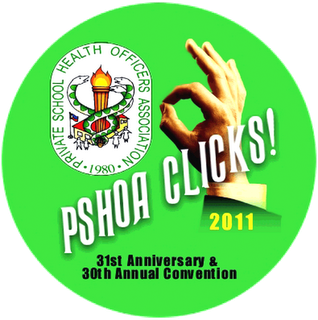 Picture of PSHOA CLICKS
The seminar aims to:
promote and instill awareness on the latest school health-related developments globally and locally, specifically in dealing with the first aid medical and dental emergencies and referrals, stress management as well as infectious diseases, towards the formulation of a more dynamic total school health program;
elicit the support and cooperation of the members/participants in consolidating the most recent concepts in the management of medical and dental conditions into a practical agenda in the school clinics;
discuss and offer solutions regaring matters involving the rights, obligations and privileges of private school health officers; and
foster the spirit of solidarity and harmony among colleagues and participants.

The school health physicians, dentists, nurses, and dental/clinic aides as well as school heads/administrators are invited to attend this activity.
A registration fee of One Thousand Two Hundred Pesos only (PhP1,200.00) all-in (inclusive of the mandatory annual membership dues) shall be charged to each participant.
For further inquiries, contact the PSHOA Office at mobile phone nos.: 0916-255-6478; 0929-325-5273 or 0927-253-3348.