Save your time and money! You can upgrade your PLDT MyDSL Internet Speed without going to any PLDT office. Want to know how?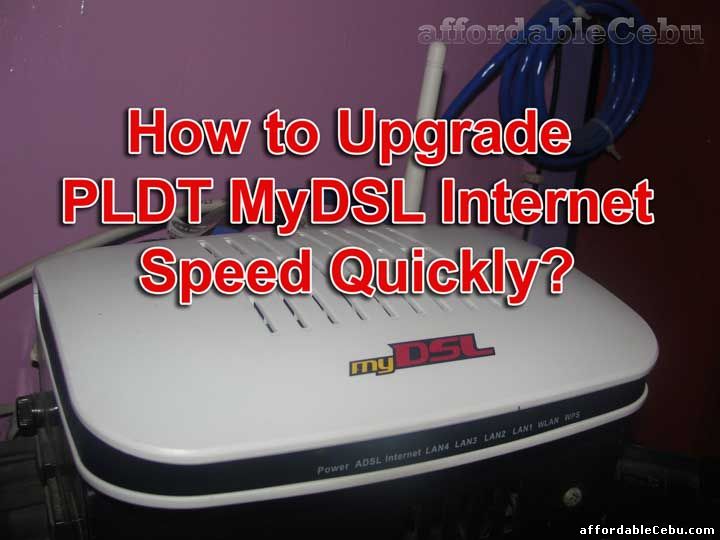 Just simply call PLDT Customer Service Hotline Numbers and request for an upgrade:
Call 171  or 172 (using your PLDT landline or Smart/Talk N' Text mobile phone)
Call 8888-171 (using other landline in Metro Manila)
Call (02) 8888-171 (using other landline provider outside Metro Manila or other mobile network). Regular NDD/Mobile call rates will apply
Take note of the availability of the PLDT customer service representative. You have to call within its business hours:
Monday to Friday: 8am to 6pm
Saturday, Sunday and Holidays: 8am to 5pm
If you have no landline or mobile phone but you have a computer with internet connection, you can still contact PLDT Customer Service by sending your message or inquiry to its email address:
You can choose the internet speed you want to upgrade for:
PLDT Internet Speed Upgrade

| Internet Speed | Cost |
| --- | --- |
| 2 mbps | Php 1,299 (landline + DSL) |
| 3 mbps | Php 999 (DSL only) |
| 5 mbps | Php 1,995 (DSL only) |
| 8 mbps | Php 3,000 (DSL only) |
| 10 mbps | Php 4,000 (DSL only) |
Tips
Before calling the PLDT Customer Service, you need to prepare your ID number (this is the ID number of the valid ID you presented when you applied for PDLT myDSL/Landline. The customer service representative will ask for it for identity verification.
Upgrading your plan has no charge or cost while downgrading has.
Before you upgrade your plan, make sure to think first why you're going to upgrade. Are you using multiple computers at your home or are you adding many computer at your internet cafe? If you have 3 to 4 internet users at home, 3 mbps is enough. Having 3 internet users, it's highly unnecessary to upgrade to 8mbps if you have no internet cafe or a business that needs high-internet speed. Remember to save your money and downgrading your plan has a charge.