We know the tragic event (the earthquake) that took place in Cebu, Bohol and in other parts of Central Visayas, Philippines. People are so panic and afraid. Many huge buildings, business establishments, houses, churches, bridges and other infrastructures have been damaged. Over 180 people are dead!
Why do an earthquake like this that took the lives of many people happen? Most of you would say it's because it's the will of God. Others would say it's just a natural phenomenon caused by the "rock underground which suddenly breaks along a fault" (as explained by the Plate Tectonics).
I have a reason that could be real that you shouldn't ignore.
The reason lies on the numbers of the date the earthquake occurred,
October 15, 2013.
October 15, 2013  or
10-15-2013
. What do these numbers mean?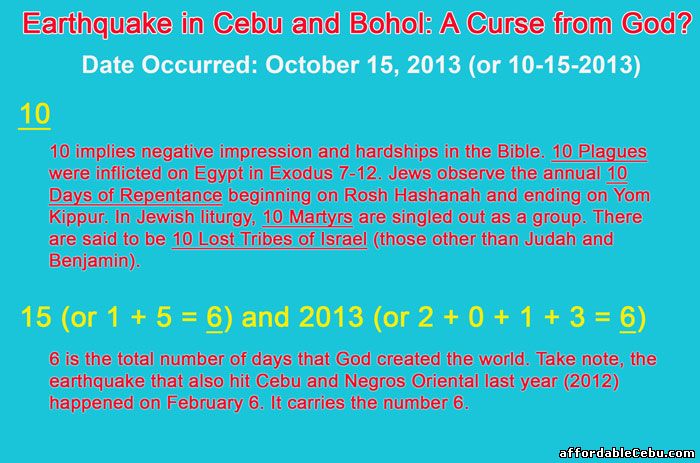 Transcription:
10
10 implies negative impression and hardships in the Bible. 10 Plagues were inflicted on Egypt in Exodus 7-12. Jews observe the annual 10 Days of Repentance beginning on Rosh Hashanah and ending on Yom Kippur. In Jewish liturgy, 10 Martyrs are singled out as a group. There are said to be 10 Lost Tribes of Israel (those other than Judah and Benjamin).

15 (or 1 + 5 = 6) and 2013 (or 2 + 0 + 1 + 3 = 6)
6 is the total number of days that God created the world. Take note, the earthquake that also hit Cebu and Negros Oriental last year (2012) happened on February 6. It carries the number 6.

God has the will to create and the will to destroy. We do not know what his plan in every tragic event like earthquake that will happen.
You know that the date mean something. Is the recent earthquake a curse from God? Or is it a blessing in disguise? What do you think?