---
Requirements in Applying UnionBank ATM Card
Like any banks in the Philippines, UnionBank is very strict in requiring you to bring the needed requirements in order to apply or get a Unionbank ATM card. Going to a UnionBank branch without requirements or even lack of requirements is useless. Your ATM card application will not be accepted. To save time and money, prepare and bring the needed requirements listed below:


Initial deposit. To know the initial deposit of a certain type of ATM account (example: eWallet or EON), you can call your chosen UnionBank branch through landline. We make it easy for you to search your preferred UnionBank branch. Just search it on the search form above.
Two (2) pieces 1x1 or 2x2 recent ID pictures.
At least two (2) valid id's.
Primary/Main Valid ID's (photo-bearing ID's):

School ID
Company ID
Driver's License ID

Postal ID
Voter's ID
Passport
OFW ID
Seaman's Handbook
GSIS eCard ID
PhilHealth ID
Senior Citizen's ID
PRC ID
Other Government-issued ID's...

Secondary Valid ID's (not photo-bearing ID's):

NSO Birth Certificate
Barangay Clearance/Certificate (recent)
NBI Clearance (recent)
Police Clearance (recent)
Marriage Certificate
other identification documents...
Bring the original copy and a photocopy of the ID's you're going to submit.
UnionBank may require other documents such Tax Identification Number (TIN) or SSS Number. So, please have them ready.
Picture of UnionBank ATM Cards (EON and E-Wallet Card)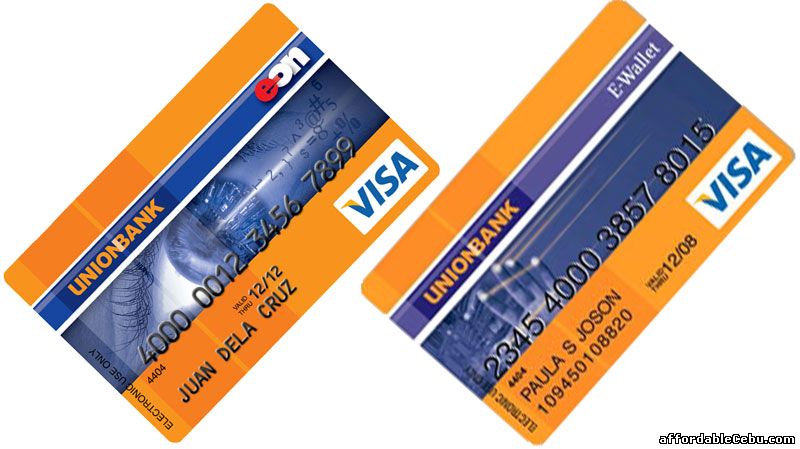 The UnionBank e-Wallet is issued to all those who opened for UnionBank Premium Deposit, UnionBank Savings (ATM-Based), UnionBank Power Checking, UnionBank Regular Checking.
Do you have any concern with opening or applying a UnionBank ATM card?
Warning! When posting comments, strictly observe correct spelling. Avoid incomplete words such as TY (as Thank You), Pls as Please, gud as good, dpt as dapat, etc. You can comment in English or Tagalog. If you will not follow this simple instruction, your comment(s) will not be accepted or published.
Total comments: 5
5
Emy
(07 June 2017 7:58 PM)
Hi. Ask ko lang po magkano po mag open ng account un pinaka minimum po. At Eon card din po. Thanks!
4
Jefferson Lincuna
(02 June 2017 11:11 AM)
pwede po bang kahit walang ID with picture kasi po nawala pero may mga xeroz copy naman po ako ng birth certificate at police clearance at barangay clearance
3
connie alili
(14 May 2015 6:31 AM)
hello!ahm i have a question....i dont have TIN......it possible i apply?
1
Jonavie
(29 March 2014 9:25 PM)
Hello- A little concern. I don't have tin or sss number. I want to open an account using these two identification Postal and Voters if that possible?