---
How to Transfer a Land Title from a Deceased Parent in Philippines?
If your parents (mother and father) are already dead or deceased, you can still transfer their property or land title to your name. This is applicable to citizens in the Philippines. Here's a simple and basic steps in transferring a land title from a deceased parent to his/her children.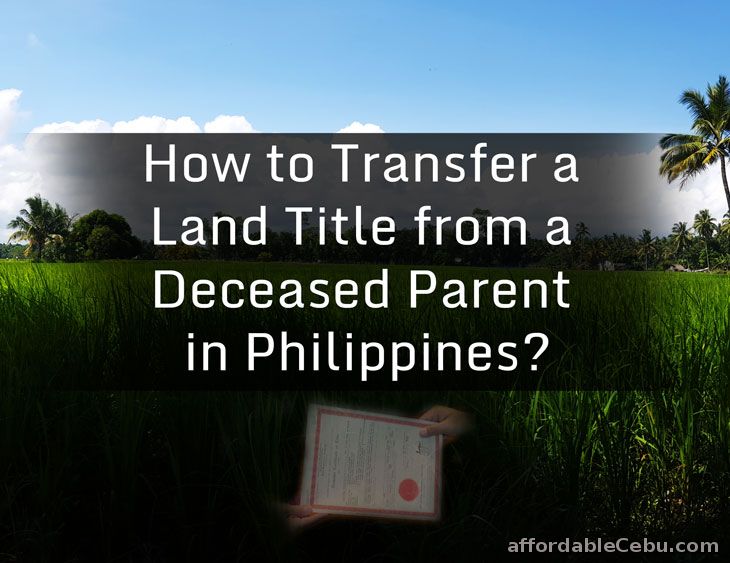 1.) The children or child of the deceased parents needs to execute a Deed of Extra-judicial Settlement of the Estate from a lawyer.
All the children should enter in an agreement on how to distribute or dispose the properties (e.g. land).



2.) Publish the Deed of Extra-judicial Settlement of Estate in a newspaper of general circulation in the City and Province once a week for three consecutive weeks.
3.) Get the Affidavit and Certification of the Publication in the newspaper and bring these documents to the Bureau of Internal Revenue (BIR).
4.) Pay the Estate Tax in the BIR.
The BIR will issue a certificate that you should bring to the Land Registration Authority or in the Registry of Deeds in order to file a transfer of title.
Frequently Asked Questions:
What if there are some siblings or children of the deceased parent who are not included in signatory agreement? All the children (you, your brothers and sisters) should sign the agreement. Even if some children are not interested to inherit the properties of the parent, they are obliged to make and sign a waiver. If they don't make a waiver, the extra-judicial settlement of estate will not be processed.
What if your brother or sister is already been dead and had a children? Do they have the right to inherit the property? Yes.
What if your brother or sister doesn't cooperate with you in signing the agreement? You should go to the court and let the court call the attention of those who doesn't cooperate with you and let the court decide on how to distribute or dispose the properties according to the law.
Are you having a problem in transferring your parents' land title to your name?
Warning! When posting comments, strictly observe correct spelling. Avoid incomplete words such as TY (as Thank You), Pls as Please, gud as good, dpt as dapat, etc. You can comment in English or Tagalog. If you will not follow this simple instruction, your comment(s) will not be accepted or published.