To legally start a business in the Philippines, you will need a
Business Permit
to be issued by the Business Permit & License Office of the City/Municipality government.
I will tell you that it's expensive to get a Business Permit for a Sole Proprietorship in the Philippines. Aside from the high cost, you may need to give some additional cash for the fixers or to the government employees who will make the processing fast.  Plus, you also need to pay corresponding fees to other government agencies which are linked to the Business Permit processing.
Since the business I started is located in Oroquieta City, I'll enumerate the different fees or charges that encompasses the Business Permit transaction.


How much does a Business Permit cost in the Philippines?
The
cost of Business Permit may differ from city to city or municipality
.
It may go around ₱5,000 to ₱6,000
. This does not include the cost of Fire Safety Inspection Certificate which goes around ₱500.
Here's the
Assessment Record
I got from our
Office of the City Treasurer
when I apply for a Business Permit: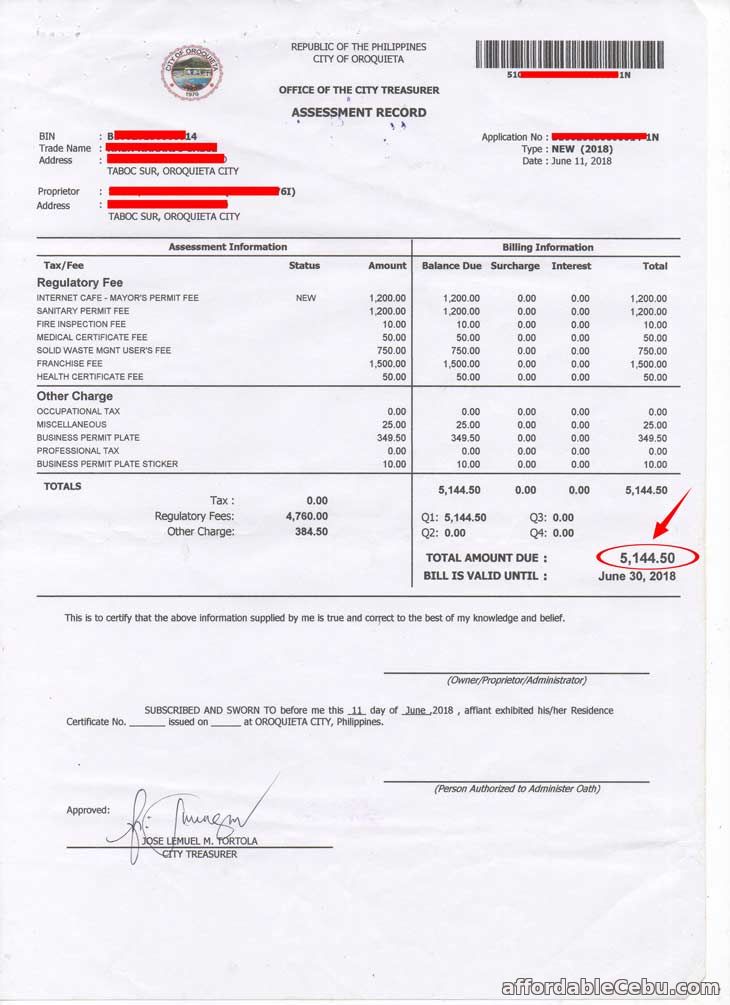 The total cost I paid as you can see went to around ₱5,000.  
---
Transcription of the Assessment Record
REPUBLIC OF THE PHILIPPINES
CITY OF OROQUIETA

OFFICE OF THE CITY TREASURER

ASSESSMENT RECORD

BIN:
Trade Name:
Addresss:

Proprietor:
Address:
Application No.:
Type: NEW (2018)
Date: June 11, 2018

Assessment Information
 
Regulatory Fee:
Internet Cafe - Mayor's Permit Fee - ₱1,200
Sanitary Permit Fee - ₱1,200
Fire Inspection Fee - ₱10
Medical Certificate Fee - ₱50
Solid Waste Management User's Fee - ₱750
Franchise Fee - ₱1,500
Health Certificate Fee - ₱50
Other Charge:
Occupational Tax - ₱0
Miscellaneous - ₱25
Business Permit Plate - ₱349.50
Professional Tax - ₱0
Business Permit Plate Sticker - ₱10
TOTAL AMOUND DUE: ₱5,144.50
---
Aside from the Business Permit, there are additional costs you're going to pay. This is to make your Business Permit valid, there are requirements you need to do and pay such as:
BIR Registration - annual registration will cost ₱500. If you have delinquent taxes (or unpaid taxes) in the previous years let's say 5 years, you will be obliged to pay the total cost plus penalty. Thus, you will pay a total of ₱7,500 for the five year tax delinquency.
DTI - cost for DTI registration may go around ₱200 to ₱800
SSS Certification for Business Permit
PhilHealth Certification for Business Permit - You need to pay the whole year contributions to PhilHealth. If you pay ₱200 per month in PhilHealth, the total payment for 1 year would be ₱2,400.
Bureau of Fire Protection - pay around ₱500 for Fire Safety Inspection Certificate
The
Ease of Doing Business Act
(law) has not been fully implemented by most local government units yet, The office of the BIR, DTI, SSS, PhilHealth, City Health, and Bureau of Fire Protection are not yet housed in one area to make the processing of Business Permit convenient or easy as what this law promised. So you need to spend more time and more money to get to the different offices.
I hope you're financially prepared to start a small business in the Philippines. Expect the worst in processing a business permit.