This scenario may apply to you: You may have an old BDO account (ATM or Passbook account) which didn't maintain the required minimum maintaining balance, then it got closed. You may ask if you could renew or reactivate that closed account. Does Banco de Oro (BDO) allow renewal or reactivation of closed accounts?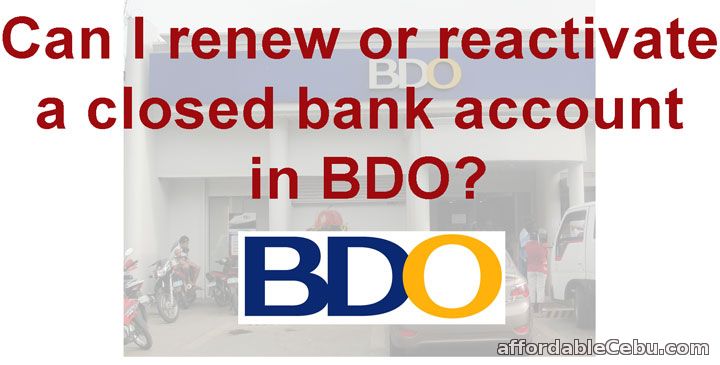 Answer
As general information, please be informed that if the account is already closed in BDO, it can no longer be reactivated. You have to open another account, where you will be given a new account number.
In opening a new account, here are some of our guides that you may find useful:
Since it's a new account application, you must bring the needed requirements during the application. Requirements are listed on the given articles/guides above. Read them if you want to know more about new account application.
Tips
To avoid account closure of your BDO account, you must transact (either deposit or withdraw) at least two times a year on your account and maintain the required maintaining balance. Inactive or dormant BDO accounts for two years will be charged a penalty or worst, BDO may closed those accounts.
To conveniently monitor your BDO account anytime and anywhere, it's recommended to enroll your account to BDO's online banking facility. This article may help you: "How to Apply for BDO Online Banking?"
It's better to maintain the required minimum maintaining balance (and earn interest) than paying the penalty of falling below maintaining balance.
Should you have further queries, please don't hesitate to post them in the comment below and we will be happy to assist you.