Banco de Oro (BDO) is one of the largest banks in the Philippines and has received several awards and recognitions
Your money is safe and secured if you open or apply a BDO Savings Account.
Here's the procedure on
how to apply for a Banco de Oro (BDO) Savings Account
:
Step 1
Prepare the needed requirements:
a.) At least 2
valid id's
. Bring at least 1 or 2 photo-bearing valid id's and 1 or 2 non photo-bearing valid id's:
> Photo-bearing Valid ID's:
- Driver's License

- Voter's ID

- Company ID

- School ID

- Passport

- Senior Citizen ID

- Government-issued id's:
> Non photo-bearing Valid ID's:
-

Barangay Clearance/Certificate
b.) 2 pieces of 1x1 recent colored pictures of yourself
c.) Initial deposit (2,000 pesos for ATM only and 5,000 pesos for Passbook with ATM)
Step 2
Go to your chosen or nearest Banco de Oro (BDO branch).
Step 3
Inside the bank, go to New Accounts section and tell a bank officer that you want to apply for a new account.
Step 4
The bank officer will process your application, do some paperworks, and you will fill out an application form.
Step 5
After filling out the form completely, ask the bank officer when will your ATM or Passbook savings account will be released.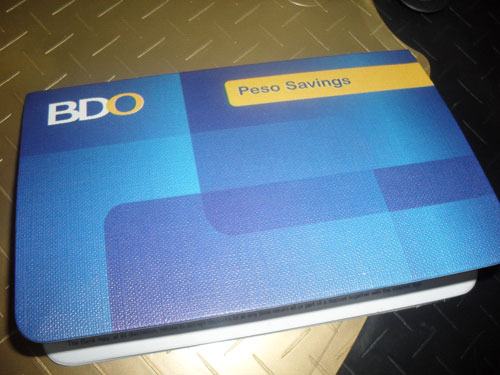 Photo of my BDO Passbook Savings Account
After the application process, the bank officer will give you a deposit slip that confirms your initial deposit transaction.
Claiming Your BDO ATM/Passbook (Waiting Period)
Usually BDO will release your ATM or Passbook after 7 days (1 week). So, you should go back to your bank after a week and don't forget to bring your deposit slip to claim your ATM or Passbook savings account.
Tips
If you want to access your BDO account online, you should enroll to BDO online banking. With this facility, you can inquire your account balance online, pay your bills (utility, landline, electric bills, etc.) online, or transfer money to other bdo accounts online. You can also load your mobile phone online with this facility.
You can also invest in stock market with BDO's online banking service.
Happy banking with Banco de Oro (BDO)!
Help your friends and family in making their BDO savings account application less hassle. Share this post to them.