If you're a money-wise person, you might like opening a Chinabank savings account.
Because, aside from being one of the 
largest banks in the Philippines
, Chinabank offers lower charges, lower initial deposit, lower maintaining balance and other banking fees.
You can open as low as ₱2,000 pesos for a Passbook or ATM savings account. So, how to apply? Follow the steps below:

Step 1
Bring the needed requirements in applying for a Chinabank Savings Account:
₱2,000 initial deposit for ATM Account or ₱5,000 initial deposit for Passbook Account
2 pieces recent 1x1 ID picture
At least 2 valid id's (original copies and photocopies):

Driver's License
Company ID
School ID
Postal ID
Voter's ID
Passport
OFW ID
Seaman's Book
PRC ID
NBI Clearance
Police Clearance
Barangay Certificate
GSIS ID
HDMF ID
any Government-issued ID's
Chinabank may require you to present additional or supplementary IDs to verify your identity. So, you must bring other ID's if you have.
 
Step 2
Go to a nearest or preferred Chinabank branch. Inside the bank, go to the New Accounts section. Tell any bank officer that you want to open or apply new savings accounts. Don't forget to always wear your sweet smile.
Step 3
The bank officer will require you to present the valid id's and other requirements mentioned above. He will ask you what type of account you would like to open. Chinabank offers many types of savings account. For ordinary individuals, you can open a Passbook or ATM account. Passbook account has different account number with the ATM account. So they're separate. They're not offering a Passbook and ATM with the same account number. Please take note of that.
Initial deposit of Passbook account is P5,000 and initial deposit of ATM account is also P5,000. If you want to open both Passbook and ATM, your total initial deposit would be P10,000.
And he will then give you some forms (application form, personal profile form, etc.) to fill-out.
Step 4
After processing the application and the deposit, the bank officer will give you the deposit slip (for the ATM account). 
Claiming Your China Bank ATM card
You can claim your ATM card after 1 week (if you're in Metro Manila) or after 2 weeks (if you're outside Metro Manila). Don't forget to present your deposit slip and bring a valid id.
Pictures of China Bank ATM Card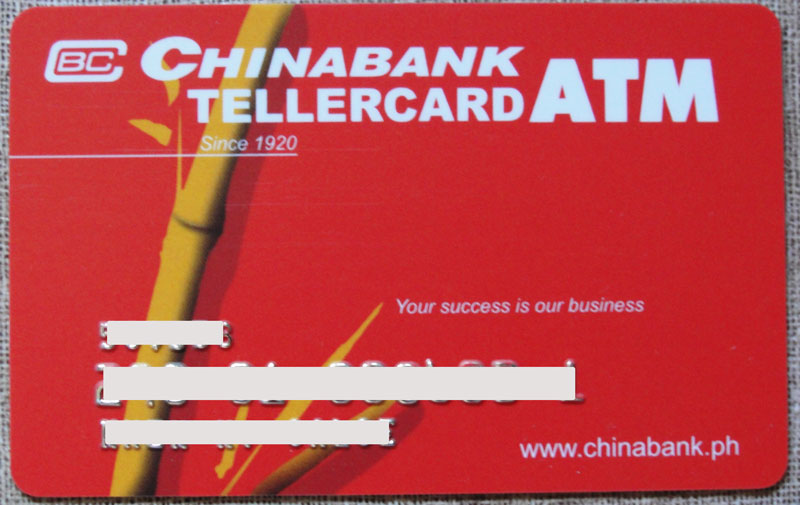 Front side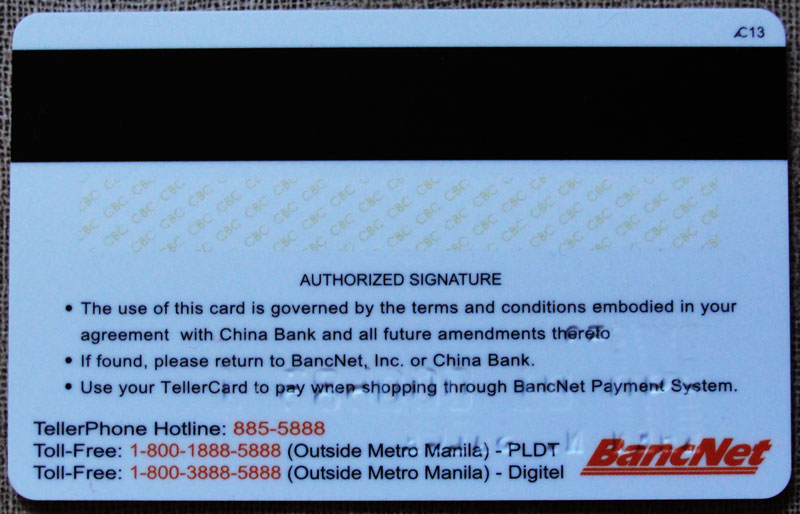 Back side. With BancNet logo.
 
New Chinabank ATM Card (with EMV chip)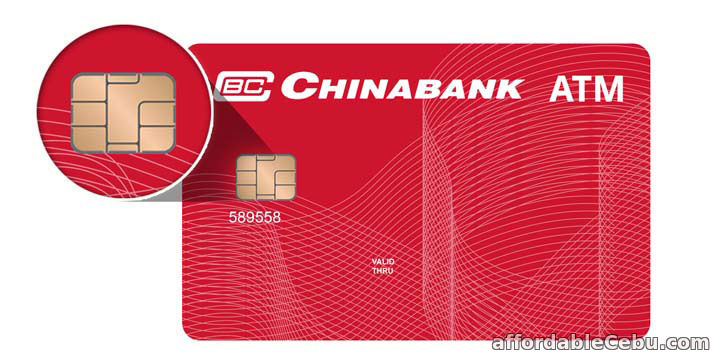 Chinabank Savings Account has:
₱2,000 maintaining balance for ATM account and ₱5,000 maintaining balance for Passbook Account
P200 monthly charge for falling below maintaining balance
0.250% interest rate to earn per year
Some Powerful Features of Chinabank ATM account:
withdraw money fast in any Bancnet ATM (machines).
transfer funds from your account to other accounts (to other banks)
you can access your account balance online through China Bank's online banking.
shop to major malls, appliance centers, department stores using your China Bank ATM card.
buy prepaid load (PIN) through China Bank ATMs.
etc...
Are you having problems opening or applying a Chinabank Passbook and ATM savings account?