Wondering on how and where to open a Banco de Oro (BDO) bank account in United States (USA)? You can open a BDO bank account particularly the BDO Kabayan Savings Account at any of the following BDO Remittance Offices in the US.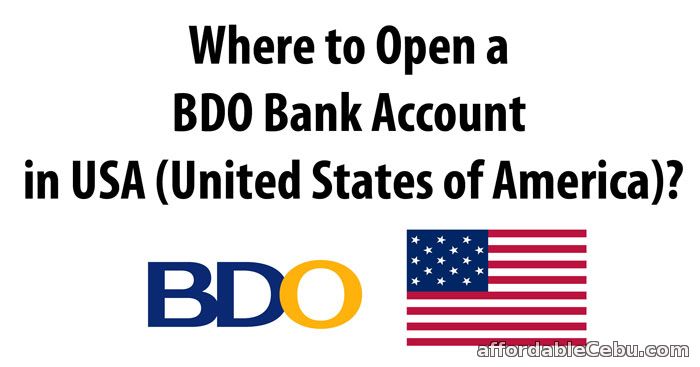 The offices are located at the following addresses:
BDO Remit (USA) Inc. Office located at 1559 East Amar Road, Suite U, West Covina, California
BDO Remit (USA) Inc. Office located at 215 South Vermont Avenue Los Angeles, California
BDO Remit (USA) Inc. Office located at 4830 Mission Street, Suite 101 San Francisco, California
How to Apply for a BDO Kabayan Savings Account?
Upon applying for a BDO Kabayan Savings Account, it requires a 1 valid ID with picture and 1 pc 1" x 1" ID picture and a government-issued ID such as Passport, UMID, etc.
Php 100 initial deposit for Peso Account or $100 for Dollar Account.
This account comes with ATM and Passbook. It has zero maintaining balance if you transact or deposit (remit) at least once in a year.
Take note: If this account has done no transactions in 1 year (12 months), it will be converted automatically into a regular passbook account. Passbook account will require a 10,000-peso maintaining balance. If your account falls below the maintaining balance in two (2) consecutive months, BDO will charge you Php 300.
Other Features
Through your BDO Kabayan Savings Account, you avail these great features such as:
Personal Loan
Auto Loan
Housing Loan
You can also pay your loans and insurance through Auto-Debit Arrangement (ADA). It means payments to your loans or payables will be automatically paid from your account.
You can also avail hassle-free viewing (checking) of your account balance online by enrolling your account to BDO's online banking facility. Here's the procedure on how to enroll: "
How to Apply for BDO Online Banking?
".