Go with paperless. Never wait for the delayed bank statement (in paper form) mailed to you. You can actually monitor or access anytime your bank statement in BDO (Banco de Oro) through its online banking website. But how?
You must enroll your BDO account to BDO online banking facility
. To do this, this might help you: "
How to Enroll to BDO Online Banking?
".
Through
BDO online banking
, you get a quick view and access your BDO accounts such as your Current/Savings, time deposit, cash card, credit card, trust account and loan balances. You can also pay your bills (electric bills, landline/internet, SSS, PhilHealth, PAG-IBIG), transfer money to your other BDO accounts, buy an e-load for your mobile phone. You can do this anytime and anywhere. That's the power of internet banking!
Inside BDO Online Banking
As you can see in the screenshot below, you can do some of the powerful features of BDO online banking such as balance inquiry, bills payment, fund transfer, mobile reload, (BDO) card reload, wire transfer, transaction history, biller enrollment, etc.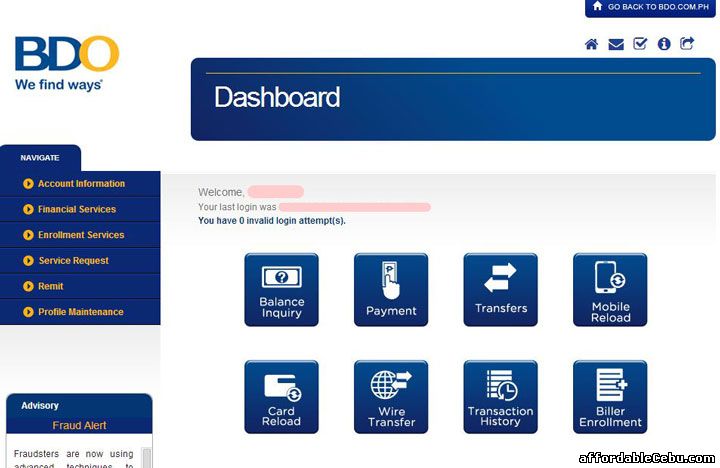 You can access your account if you go to My Accounts section. In this section, you can view your account balance, your transactions, trust account and your activity history. You can even print those statements if you want.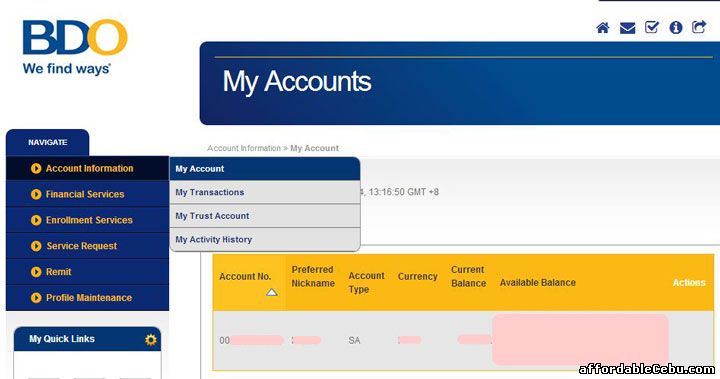 You'll miss these powerful features if you don't enroll your BDO account to BDO's online banking website. So, have it enrolled.
There's no fee or charge in enrolling you to BDO online banking. It's totally free. And it's even free to access your accounts, transfer funds or pay your bills.
Do you find it easy to monitor your BDO bank statements through its online banking website? Are you having a problem or do you find it difficult accessing BDO's online banking website?