We would like to inform everyone that Palawan Pawnshop, according to their Social Media Manager Coleen Mae Sitchon, is "not accepting franchising" anymore. Application for franchising or Palawan Express Pera Padala agent is currently put on hold.
If you have further inquiries, you can contact Coleen at coleenmeansgirl13@gmail.com.
You may disregard the following information below.
With its rapid expansion, one of the top pawnshops in the Philippines, Palawan Pawnshop is offering franchising, a business opportunity for you to earn a lucrative income. Everywhere, Palawan Pawnshop branches are established like mushrooms. People love to go to Palawan Pawnshop for its very flexible loan terms and very affordable remittance rates. Some of the services they offer are:
pawning (prenda)
money remittance (pera padala international)
forex exchange (money changer)
bills payment (electricity, phone, internet, load)
If you're interested to apply for franchising, just follow any of the options below:
Option 1
You can choose to apply for franchising of Palawan Pawnshop by sending a letter of intent addressed to:
Mr. Karlo M. Castro

Business Development Manager

Email Address: rebeccabadayos@yahoo.com
Option 2
You may call Palawan Pawnshop telephone number (landline) at (02)-912-4253 and look for Ms. Rebecca Badayos.
Option 3
You can also send a letter of intent to email address: ppsheadoffice@yahoo.com or fax to 048-433-4110.
Option 4
The simplest thing to do is to visit a Palawan Pawnshop branch and inquire for franchising. The staff is very kind enough to entertain your concern.
Some requirements to bring:
application letter
transcript of records
resume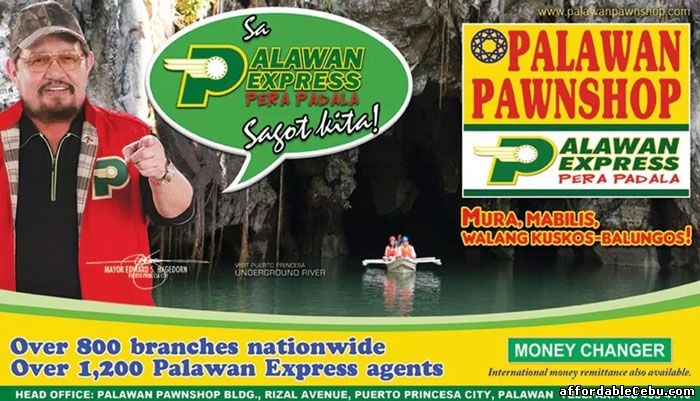 Do you have any other concern with Palawan Pawnshop franchising opportunity?