Due to the evolution of internet, online money-making opportunities are fast-growing. The opportunities of online scammers are also increasing.
That's why internet-based pyramiding scams are also widespread. If you become a victim of this pyramiding or ponzi scheme, then you are just investing your hard-earned money to a worthless investment instrument.
As what the Securities and Exchange Commission of the Philippines emphasized,



"This investment scheme ordinarily collapses as fast as they are created while leaving its investors behind and unable to recoup their investments" (sec.gov.ph)
That's why it's very important to know how to identify a pyramiding scam or ponzi investment scam. Both offline or online pyramiding scams have the same ending - collapse and loss of investment of most investors.
What we will focus here are the online or internet-based pyramiding scams.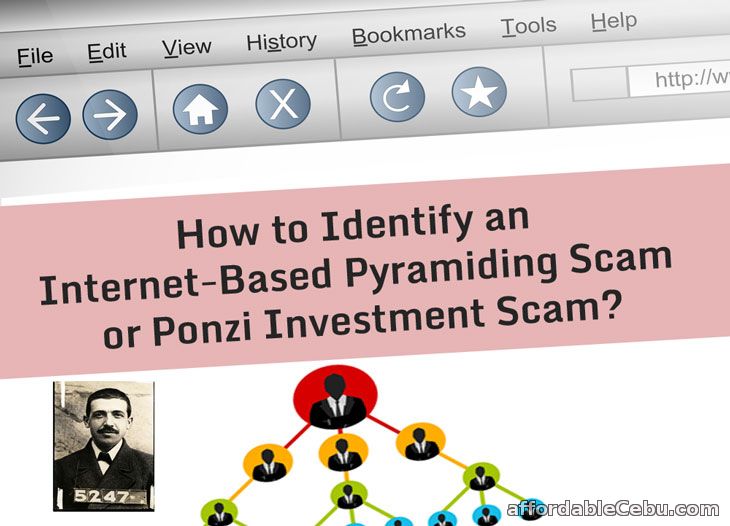 How to Identify an Internet-Based Pyramiding Scam or Ponzi Investment Scam?
Because of the widespread of pyramiding/ponzi schemes in the internet, the Securities and Exchange Commission (SEC) of the Philippines laid out the features of an internet-based ponzi investment scheme in their website (sec.gov.ph):
No SEC registration
Investment in foreign currency, preferably in US dollars
Offers or guarantees a huge profit in a very short period
Utilizes a binary network (i.e. upline and downline) to earn commissions
No paper trail (i.e. contracts, receipts)
Promises little or no financial risk
Provision for a lock-up period where an investor cannot touch the investment (i.e. 60 days)
Assures pay-off investments in a short time
Uses high-pressure methods to convince investors to reinvest their earnings
Unknown principal office, address, founders, directors or officers
Orientation seminars are conducted informally
In addition to the list of features above, let me add some important ways to determine an internet-based pyramiding scam or ponzi investment scam based on my experience and research.
Research about the company and its products or services.
Usually, you can search in the internet some comments, reviews or opinions (positive and negative) regarding the company and its products/services. You can gain additional insights from these before finally deciding to join an internet-based or online program.
What are some tips to do in researching in the internet?
Use these keywords
"name of the company" scam
"name of the company" ponzi
"name of the company" pyramiding
"name of the online program" scam
"name of the online program" ponzi
"name of the online program" pyramiding
"name of the officer(s) of the company" scam
Know if products are sold by other companies/businesses. Search the name of the products in the internet. Determine its price and compare it to the online program's price. If the products are overpriced, beware!
Customers don't like to buy overpriced products.
If you are a member of the pyramiding/ponzi online program, you are just force (not interested) to buy those overpriced products because they are required in order to receive commissions from your downlines. This is one of the many signs of pyramiding sheme.
Check the website of the online investment program
Know some background information of the website by checking it in a www.domaintools.com. This is a helpful website in determining useful information about the website such as:
When was the website created?
Who created the website?
When will the website expire?
Where does the website being hosted?
Take extra careful if the website is very new.
It's also helpful to install alexa ranking extension in your browser. You can search in Google about this tool and how you can install it in your browser.
The alexa ranking extension can help you determine how the website rank globally and how high its traffic. 
If the alexa rank is around 1 million to 2 million, it means the website has very low traffic or have very few visitors. Usually it has within 300-500 visitors per day.
If the website of the online investment program has very few visitors, you should not trust this program quickly.
Know the Officers/Management of the Company
Know the officers of the company. Search about them in the internet. 
I read a lot of many cases of ponzi schemes and scams. Do you know what I found out?
Those who earned a living by scamming and deceiving in the past are likely to repeat their evil deeds in the present.
Their unethical deeds seem to be a habit that most scammers cannot avoid.
If their first version of ponzi scheme is discovered, they will use another version of it just to fool people and earn a lot of money in a short period of time.
Usually the victims are those who lack knowledge in investing, finance and online technical information.
Very High Profit in a Short Period of Time
Most pyramiding/ponzi scams promise you more than 40% - 80% profit in a month or in just a few months. Take note: There's a huge difference when you invest your money in stock market or in real estate.
When you invest your money in stocks of a profitable company, you will usually earn an average of 15% - 20% profit annually. In a valuable real estate, average profit would be 10% - 15% annually.
Let's say for example, you invest $100 in an online program and you earn $50 profit or net income after a month. That's 50% profit, right?
Then it's a too-good-to-be-true investment. That profit comes mainly from the membership fees and not from the actual sales of products or services.
If no one registers in the program or if a significant number of members stop reinvesting in the program, it will collapse. And most members will suffer huge loss of money from their investment.
So if you invest in an online program, be sure you know how much profit you can earn and how long you can earn that profit.
Determine how the company or investment program earns money
Nowadays, it's so hard to identify how some ponzi investment program earns a profit. Different versions of Ponzi scams are now getting complicated.
Determine carefully how the money flows and how the company/operator of the investment program earns a profit.
It it engages in an unsustainable business/program, it's probably a ponzi scam.
If it troubles you knowing how the program earns a profit, ask yourself this question, "If no more people join the program, can the company/investment program sustain or continue its operations?"
If the answer is "No", it's surely a ponzi scheme.
If the company or business is selling "securities" or investment program, are the securities registered in the Securities and Exchange Commission (SEC)?
The Republic Act No. 8799 otherwise known as "Securities and Regulation Code" defines "securities" as shares, participation or interests in a corporation or in a commercial enterprise or profit-making venture and evidenced by a certificate, contract, instrument, whether written or electronic in character. (RA No. 8799 Chapter 1, Section 3.1).
If the company promised you an investment contract that would earn a certain interest/profit in given period of time, that is called "security".
If the company offers you 8%, 10%, 50% or 100% rate of return of an investment contract, that is also called "security".
To give you a more specific understanding of "securities", 'RA No. 8799, Chapter 1, Section 3.1' also defines securities as:
Shares of stock, bonds, debentures, notes, evidences of indebtedness, asset-backed securites;
Investment contracts, certificates of interest or participation in a profit sharing agreement, certificates of deposit for a future subscription
Fractional undivided interests in oil, gas, or other mineral rights;
Derivatives like option and warrants;
Certificates of assignments, certificates of participation, trust certificates, voting trust certificates or similar instruments;
Proprietary or non proprietary membership certificates incorporations; and
Other instruments as may in the future be determined by the Commission
Don't hesitate to ask if the investment contract or "securities" offered by a company is registered in the Securities and Exchange Commission (SEC).
If it's not registered, then it's illegal, unauthorized and probably has a big possibility to be a ponzi scheme.
Consult a Financial Planner or Analyst
A financial planner can advise you whether it's safe to invest in an online program you want to join. He has the special skills to determine the risks of a certain investment.
As what the Federal Trade Commission advises, "Be skeptical of any investment pitch that insists you act now, that guarantees big profits, that promises little or no financial risk, or that demands you send cash immediately." (source: onguardonline.gov/articles/0002k-investment-schemes)
To have a better understanding how ponzi scheme works, I want to introduce to you the first person who popularized this scheme.
Who is he?
The first man who became most popular in using the ponzi scheme was Charles Ponzi.
Charles Ponzi, an Italian businessman, promised his investors a 50% profit in 45 days in his postal reply coupon business. 


With its huge return of investment (ROI), his investment scheme became a frenzy to many people. Many people were so crazy that they immediately invest their money with Ponzi. Some people mortaged their homes just to have money to invest with Ponzi.




Charles Ponzi - the term "Ponzi Scheme" derived from him


Just within a few months, started as a poor guy, Ponzi became an instant millionaire.


But it was later discovered a fraud/scam because his postal reply coupon business was unprofitable and couldn't pay back all investors. The main income from old investors came primarily from new investors coming in.  and His investment company collapsed. Most investors suffered huge loss of money.


Ponzi was jailed. His wife, Rose Gnecco divorced him.




Do you know any online investment or MLM programs that use pyramiding/ponzi scheme? Let us know in the comments below