You can
download here for FREE
the
Bible in Cebuano/Bisaya translation
. "Ang Bibliya" is a cebuano/bisaya translation of "The Bible".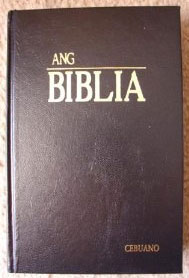 Picture of a typical printed edition of the Bible in Cebuano/Bisaya translation or version
About The Holy Bible: Cebuano Translation
The Holy Bible
: Cebuano Translation
Copyright
: Public Domain (FREE)
Notes
:
This Bible translation was converted automatically from data files made available by the Unbound Bible project. Book names, introductions, titles, paragraphs, and the like were not available, so standard English names have been used. Therefore this file would benefit from additional work by someone who has access to a print edition.