As your guide, here's a list of common diseases and surgical procedures that PhilHealth will pay (reimburse) to PhilHealth members.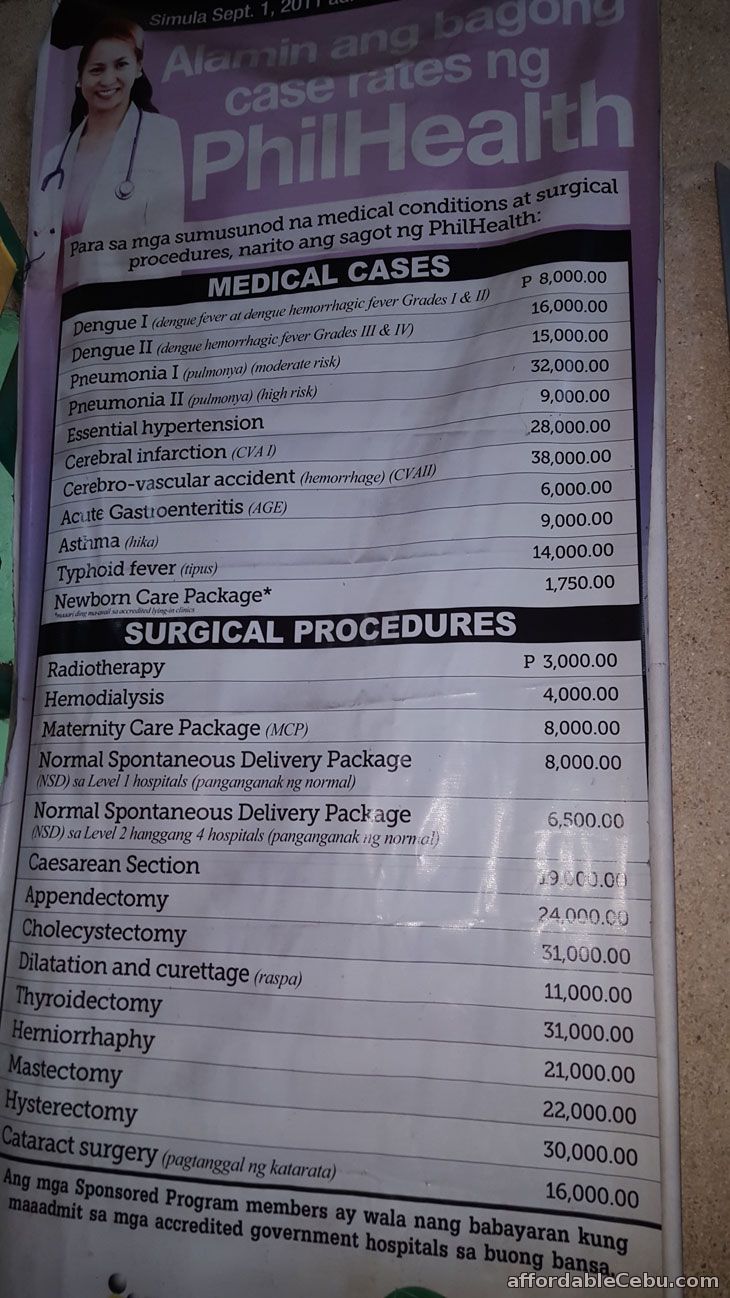 PhilHealth Case Rates (Payment) for Common Diseases and Surgical Procedures
MEDICAL CASES
Dengue I (dengue fever at dengue hemorrhagic fever Grades I & II)

Php 8,000
Dengue II (dengue hemorrhagic fever Grades III & IV)
16,000
Pneumonia I (pulmonya) (moderate risk)
15,000
Pneumonia II (pulmonya) (high risk)
32,000
Essential hypertension
9,000
Cerebral infarction (CVA I)
28,000
Cerebro-vascular accident (hemorrhage) (CVAII)
38,000
Acute Gastroenteritis (AGE)
6,000
Asthma (hika)
9,000
Typhoid Fever (tipus)
14,000
Newborn Care Package (you can also avail this to any PhilHealth-Accredited clinics)

New Cell
SURGICAL PROCEDURES
Radiotherapy
Php 3,000
Hemodialysis
4,000
Maternity Care Package (MCP)
8,000
Normal Spontaneous Delivery Package (NSD) sa Level 1 hospitals (panganganak ng normal)
6,500
Caesarian Section
19,000
Appendectomy
24,000
Cholecystectomy
31,000
Dilatation and curettage (raspa)
11,000
Thyroidectomy
31,000
Herniorrhapy
21,000
Mastectomy
22,000
Hysterectomy
30,000
Cataract Surgery (pagtanggal ng katarata)
16,000
Ang mga Sponsored Program members ay wala nang babayaran kung maaadmit sa mga accredited government hospitals sa buong bansa.
Do you have something to ask regarding the PhilHealth Case Rates?