Globe New Maximum Wireless Internet Speed
I'm currently using Globe Wimax with landline. Globe Wimax is one of the wireless internet services offered by Globe. It is indicated in Globe's website that Globe Wimax has the capacity of a maximum of 2mpbs internet speed depending on your subscription plan. I'm subscribing their 1mpbs internet speed + landline. But at about 3pm today, I noticed some changes in my Globe wireless internet speed while I was surfing the internet.



I want to verify whether there was truly a significant change in my internet speed. So, I decided to test my internet speed by going to the speedtest.net website. It is a website that will determine the download and upload speed of your internet.




When I checked my internet speed, I was surprised with the figures I saw concerning my Globe wireless internet speed. Do you know how fast my Globe Wimax wireless internet speed? It's about 2.37mbps. WOW! Globe offered more than I pay for. I will show you my proof of the increased internet speed of my Globe Wimax. Here's a screenshot I've captured: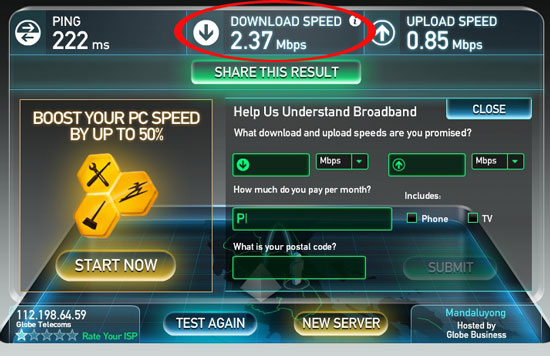 2.37mbps - has been recorded of my Globe Wimax internet speed.
I tested again my internet speed by downloading a video using a torrent client. When I saw the download speed, I was shocked it doubled. My download speed increased to 100%.
The reason why I experienced a new level of Globe wimax internet speed might be that Globe was already done in fixing their system enhancement here in our region (Central Visayas). It's a great job done by Globe as they continue to upgrade their system and increase my internet speed to a new maximum level.
To Globe, cheers! For a job well done!
Warning! When posting comments, strictly observe correct spelling. Avoid incomplete words such as TY (as Thank You), Pls as Please, gud as good, dpt as dapat, etc. You can comment in English or Tagalog. If you will not follow this simple instruction, your comment(s) will not be accepted or published.
Total comments: 2

0

Spam
2
jovenal agua
(10 April 2012 9:22 PM)
paano ako magbabayad ng wimax internet bill ko? walang dumarating n bill letter? pls answer,

0

Spam
1
Ice crusher
(27 March 2012 5:47 PM)
Ganeshmal Tejraj We are a well organized company engaged in offering a range of Metal products and Powders and Kitchen Appliances.Water Coolers, Water Coolers in Bangalore, Ice crusher, Ice crusher in Bangalore, Ice cube machine, Ice cube machine in Bangalore
Water Coolers, Water Coolers in Bangalore, Ice crusher, Ice crusher in Bangalore, Ice cube machine, Ice cube machine in Bangalore

Fore More Details Visit http://tejtara.in/refrigeration.php