Your Globe account number is something that you should keep as a Globe subscriber. You may need it when you pay your Globe bill or have any concern with Globe Customer Service. If you lost or forgot your Globe account number, you should never worried a lot. It can be found on your Globe bill. What if you lost your Globe bill? Is there another way to recover it? Below are some ways on how to find your lost or forgotten Globe account number: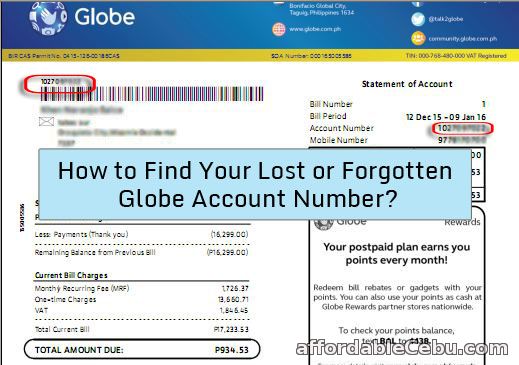 Option 1
Access your Globe account number in Globe's website. If you are registered on Globe's official main website (https://www.globe.com.ph), you can access your account there when you log-in. Some of the very important information you can access are your account number, outstanding balance of your bill, your monthly bill, etc. If you're not yet registered, make sure you register and add your account to the Account List.

 

You can see your Globe Account Number in Globe website like the one shown in the picture below:

 

 

It's easy to add your account. If you subscribe to Globe Mobile Postpaid Plan, just input the phone number of your Globe Postpaid. Then verify your phone number by entering verification number sent to your mobile phone.

 

You can locate your Globe account number on your Globe paper bill like the one shown in the picture below:

 

 
Option 2
Get your Globe account number by calling Globe's Customer Service Hotline. Prepare your mobile phone number or landline number for verification.
If you're a Globe Tattoo Home Broadband subscriber, just tell your name and your billing address. Some personal information may be asked such your birthday. So be prepare to answer some personal questions for identity verification.
Option 3
Get your Globe account number through a Globe office/store. If you have time to go any Globe office/store, you can request for account retrieval or ask your Globe account number.

 
Do you know other ways to retrieve or get your Globe account number? Let us know in the comment below.
Do you have any problem in getting your Globe account number?