If you're apprehended by an LTO (Land Transportation Office) Officer or traffic enforcer in the Philippines with a violation of "unregistered MV or motor vehicle", you are going to pay a penalty worth
Php 10,000
(around $227). Even if the registration (Certificate of Registration) or Official Receipt (OR) of the Registration has been expired, LTO will still charge you a violation of "unregistered MV".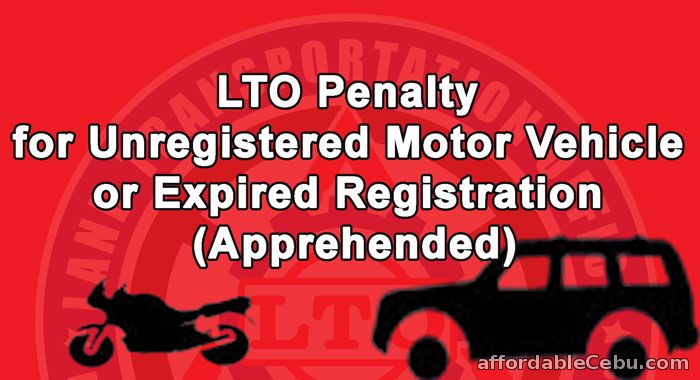 According to an LTO Office Representative,
"Sir,

-If you only failed to carry the valid OR/CR (not yet expired), the penalty is Php1,000.

-If you are operating it but unregistered for the current year, and you are also the owner of subject vehicle, the penalty is Php10,000.00, and Your license will not be released until your motorcycle is properly registered."
If an LTO officer or Traffic enforcer found out that you have no registration or has expired Official Receipt of the Latest Registration, you will be issued a
Temporary Operator's Permit
(
TOP
) and your driver's license will be confiscated. Worst, if you have no driver's license, your motorcycle, car or vehicle will be impounded. This
TOP
in pink copy is your temporary driver's license. You can use this TOP for only 3 days. So, you must settle your charges to the LTO office to get back your driver's license.
Actions of Other Drivers
When LTO officers or Traffic enforcers are conducting a checkpoint operation on the road, some drivers will turn their vehicle back around to avoid the checkpoint and this makes them escape any charges for violation they may commit.
Some other drivers are personally negotiating the traffic officer and give them an amount of money in exchange for letting them avoid the big penalties to be paid in the LTO office.
Tips
Every time you ride your motorcycle or car, you must bring the updated or current OR (Official Receipt) of the Registration and of course your driver's license in order to avoid penalty.
Have a photocopy (xerox copy) of your OR or CR. In case of loss of the original copy of OR or CR, you have a photocopy that you can present to the LTO officers or Traffic enforcers.
Follow the traffic laws.