---
Maximum Withdrawal Limit of BDO ATM Card
Withdrawing your money using your Banco de Oro (BDO) ATM Card in the ATM has a limit. There's a limit in withdrawing your money per day. There's also a limit on the number of withdrawals allowed per day.



The maximum amount of money you can withdraw from the ATM per day is Php 50,000. While the maximum amount of withdrawal per transaction/per dispense in the ATM is Php 10,000. And the maximum number of withdrawals allowed is 5 times.

> Maximum Withdrawal in Every Transaction (or in every withdrawal): Php 10,000

> Maximum Witdhrawal Per Day: Php 25,000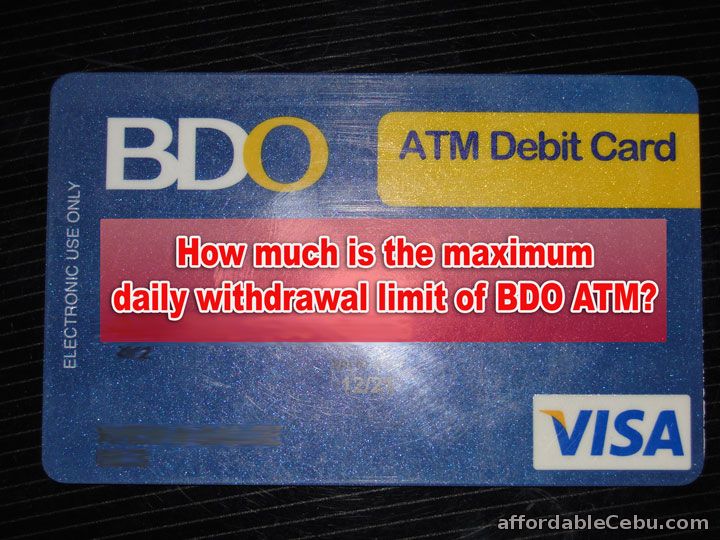 On the other hand, the minimum amount of withdrawal per transaction is Php 200 (using a BDO ATM).

Why does BDO limit the ATM withdrawal per day and per transaction? This is for security purposes. It is to avoid greater financial risks or damage to your account.

For example, your ATM card has been hacked or skimmed. Someone whom you don't know uses your ATM card which contains 1 million pesos. And he withdraw money from it. He will be limited to the maximum amount of withdrawal per day which is Php 25,000. So, he cannot withdraw all the money (all the 1 million pesos) in one day.

So, if the next day, you know that your ATM account has been compromised, you can immediately report the incident to the bank (BDO Customer Service) and get your ATM account blocked. In that way no one can access your ATM account anymore. No more unauthorized withdrawals will happen.

Are you satisfied with the Php 25,000 ATM withdrawal limit per day of BDO?
Warning! When posting comments, strictly observe correct spelling. Avoid incomplete words such as TY (as Thank You), Pls as Please, gud as good, dpt as dapat, etc. You can comment in English or Tagalog. If you will not follow this simple instruction, your comment(s) will not be accepted or published.