---
Open or Apply a Metrobank Account in Canada?
No doubt, Metrobank is one of the largest banks in the Philippines. Not only trusted but also very accessible to most provinces in the Philippines for its vast growing number of branches. If you're currently living or planning to live in Canada, you might asked, "Is it possible to open or apply a Metrobank Account (ATM, Passbook, Credit Card, etc.) in Canada?".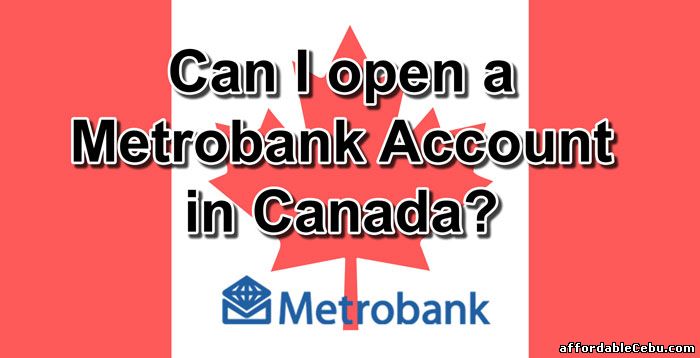 Answer:
Yes, you can open a Metrobank account in Canada. To open a Metrobank Account (ATM, Passbook, Credit Card) in Canada, you should personally visit any of Metrobank's branches or Remittance Centers in Canada, USA.
Requirements needed to bring
Present
two (2) government-issued or acceptable photo-bearing valid IDs (photocopy and original)
and
one (1) 2x2 picture
.
For non-residents please present your Alien Certificate of Registration (ACR).
A Metrobank branch personnel will be providing you the assistance that you need for account opening. Initial deposit and maintaining balance for Metrobank regular savings account (ATM) is Php 2,000 and Php 10,000 for a Regular Passbook account.
Metrobank Remittance Centers in Canada where you can open an account
Vancouver, British Columbia, Canada V5V 4G2

Telephone Number: 1 (604) 874 – 3373

Fax Number: 1 (604) 874-3374

Email Address: vancouver@metroremittance.ca

1466 Bathurst Street, Suite 108-A

Toronto, Ontario, Canada M5R 3S3

Tel. No.: 1 (416) 532 – 9779 / 1 (416) 532 – 3223

Fax. No.: 1 (416) 534 – 4040

Email: toronto@metroremittance.ca
Warning! When posting comments, strictly observe correct spelling. Avoid incomplete words such as TY (as Thank You), Pls as Please, gud as good, dpt as dapat, etc. You can comment in English or Tagalog. If you will not follow this simple instruction, your comment(s) will not be accepted or published.