---
How to Fix Sun Cellular Sim Cannot Send or Receive Text Problem?
It's so frustrating using your phone (with Sun Cellular sim) which cannot send or receive text message. How much more if you're in an emergency situation. Here are the top things to do in order to fix that problem: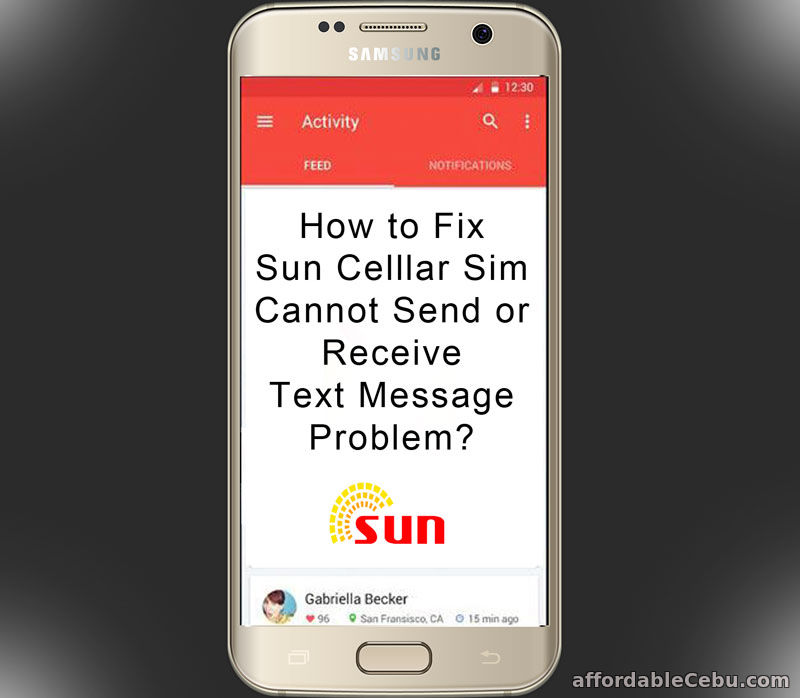 Restart your phone



Your phone might hang-up or freezes because of too many applications being used or too many system services are running. Try to restart your phone. Turn it off and turn it on again.



Check your phone signal



Signal is low in highly rural areas. If you're in the mountain, don't expect a good quality signal. If you're inside a closed room, signal is low. Go outside the room to get better signal. So check your phone signal before complaining that your not able to send or receive text message.

Check your inbox

If your inbox is full (full of messages), it's surely cannot receive a text message. Delete some old messages to free up some space for new messages.



Check call barring service



Find the call barring service on your phone's settings and deactivate it. It should not be active.



Turned off airplane or flight mode



Turn off the Airplace or Flight mode setting of your phone.



Remove Sun Cellular sim and insert to a different phone



Your phone might have a problem with its signal. Remove the Sun Cellular sim from that phone. Try to use another phone and insert the Sun Cellular sim.



Replace Sun Cellular sim



Your Sun Cellular sim might be damaged or broken, replace it by buying a new one. This is the last option.


Do you have any other solution in fixing this type of problem (Sun Celllar sim cannot send/receive text message)? Just post them in the comment below.

Or do you have any problem related with Sun Cellular Sim? You can also post them in the comment below.
Warning! When posting comments, strictly observe correct spelling. Avoid incomplete words such as TY (as Thank You), Pls as Please, gud as good, dpt as dapat, etc. You can comment in English or Tagalog. If you will not follow this simple instruction, your comment(s) will not be accepted or published.
Total comments: 3
3
Anna Marie Nangan
(06 April 2017 5:08 PM)
It's a corporate mobile, I cannot also receive/ send text message what happen? 09228588641
2
enrique t. belarmino
(16 March 2017 9:02 AM)
i cannot send text messages and call through my prepaid sun sim , but it receives loads and other text . i tried to check on the call barring services , but when i was trying to try to deactivate it , the phone was asking for the password , but when i tried the status check of all outgoing calls it avers PROVIDED , NOT ACTIVATED how could i resolve this
1
gerald lizada
(09 March 2017 7:58 PM)
cannot receive sms messages but able to send. already turnoff/on the phone.transfer sim to other phone, signal is good/stable.
im using ASUS zenfone2 dual sim.
other sim slot is working fine.tried to switch the sim slot and still unable to receive sms.