One of the largest banks in the Philippines, BDO (Banco De Oro) requires you to use
6-digit ATM PIN
. Yes.
BDO ATM PIN has 6 digits
. The more digits, the more secure. And you only have three allowable PIN tries when transacting in an ATM (machine). After 3 wrong PINs, your ATM card will be temporarily blocked from accessing your ATM account in 24 hours. After 24 hours (1 day), the BDO system will automatically unblock your ATM card and you can now use your ATM card again.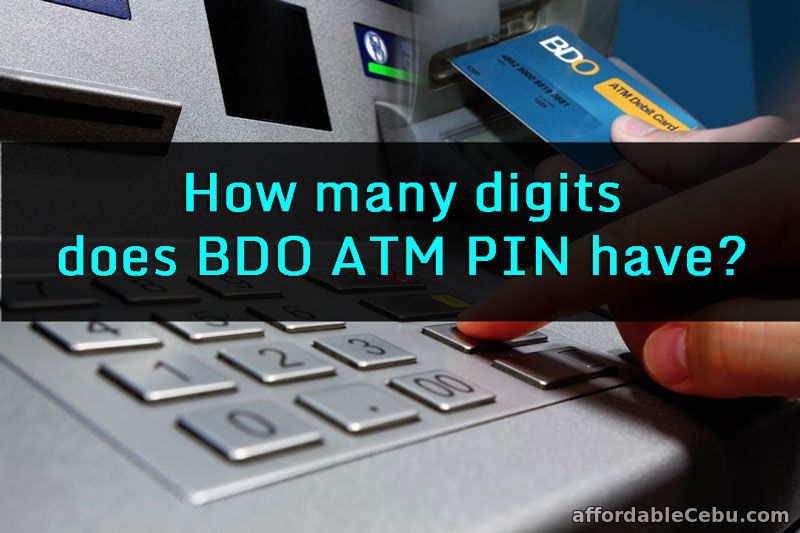 Why does BDO uses only 6 digits ATM PIN? Why not 8 or 10? And why not 3 only?
If you use 8 digits ATM PIN, it's very hard for you to memorize your PIN in that way. It could cause more problem to ATM accountholders that they will be blocked from accessing ATM (machines) because they forgot their lengthy 8-digit ATM PIN. Likewise, a 3-digit ATM PIN could also cause more unauthorized access of ATM card. If you steal an ATM card, you can easily guess the 3-digit ATM PIN.
A 6-digit ATM PIN is more secure than the 3-digit PIN. A 6-digit ATM PIN is also more convenient to memorize than the 8-digit PIN. The 6-digit PIN is the better way, a more stable.
Do you have any problem with BDO's 6-digit ATM PIN?