The short bond paper size in pixels is
2550 pixels (width) and 3300 pixels (height)
if the resolution is 300 pixels per inch.
So the short bond paper size in pixels depends on the resolution of the document. There's no fix equivalent of the short bond paper size (8.5" x 11") in pixels.
If you will use photoshop, it's very easy to get the equivalent in pixels of the short bond paper.
Here's how to do it.
Open your Photoshop and click New.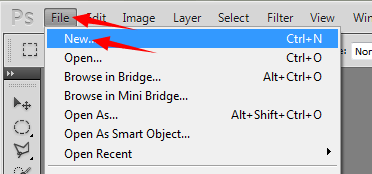 Then a small window will pop-up which is the Photoshop document settings (the presets, size and resolution settings).
In the
Preset
, choose the
U.S. Paper
.
In the
Size
, choose
Letter
.
The Letter size is equivalent to the short bond paper size having a corresponding size:
8.5 inches - the width
11 inches - the height
We will not change the resolution which is 300 pixels/inch.
To change 8.5 inches x 11 inches size into pixels, just click the
inches
selector in the Width or Height and change it into
pixels
.
And here's the equivalent pixels of the short bond paper size: