Some BDO accountholders who have an account(s) in BDO's online banking facility may have a problem in getting the One Time Password or OTP upon logging-in to the online banking website. You might be one of them who might lost their phone (is SIM card is inactive/unused) and cannot receive or get the OTP anymore. Is there any way you can receive the OTP thru other means? No. This problem is is so simple if you ignore or if you didn't understand the last sentence stated on the One-Time-Password notification box.
After you successfully enter the correct User ID and Password, you will be redirected to this
One-Time-Password
notification box. This is an added security feature of BDO to avoid or minimize the risks of unauthorized logging-in of someone's account.
Let's take a look at the One-Time-Password box: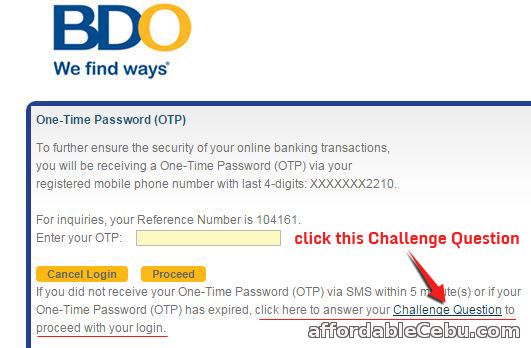 If your phone (or phone number has been inactive or lost), you cannot enter the OTP required. So another option to successfully access your
BDO online banking
account is to answer the
Challenge Question
which you created during your enrollment to BDO's online banking facility.
Click the Challenge Question link and answer that question to access your account.
What if you forgot the answer your the Challenge Question?
If you forgot the answer, it's time to go to any BDO branch or to your branch of account to update your phone number and retrieve the answers of the Challenge Questions.
Another option is to call BDO hotline:
BDO Domestic Toll-Free Nos.:

1800-10-631-8000 (PLDT)

1800-3-631-8000 (Digitel)

1800-5-631-8000 (Bayantel)

1800-8-631-8000 (Globelines)




BDO INTERNATIONAL

(Int'l. Access Code) + 800-8-631-8000



You can also send a message to BDO email address:
CALLCENTER@bdo.com.ph
Mybdo-InternetBanking@bdo.com.ph
Do you have a problem logging-in in BDO's online banking website? Do you find it hassle to enter OTP or answer a Challenge Question everytime you log-in to your BDO online banking account? What do you think? BDO wants to hear from you.