In the Philippines, web hosting services in the past can be availed and bought thru Paypal (linked to your Philippine bank account particularly Unionbank EON account) or thru credit card. So, it's hard if you don't have those two things: Unionbank EON card or a credit card. Unionbank EON card can be easily availed if you have a Unionbank branch in your area. But since Unionbank has fewer branches across the Philippines, its accessibility is limited. Likewise, to have a credit card, you should have a stable income. Without a stable income (business/work), you cannot have a credit card. So, you have to choose another option. Is there any alternative of these two if ever you want to buy web hosting services in the internet?
Yes, you can buy web hosting services using only your
Metrobank ATM debit card
(with MasterCard logo). You can buy for example a hosting services in HostGator.
How to Pay Web Hosting in HostGator Using Metrobank ATM Debit Card?
I have a website hosted in HostGator, and this was what I did upon payment of their web hosting services.
I chose Credit Card as Payment Type. Then, I entered the information in my Metrobank ATM card to the required fields in the HostGator Payment Option:
Name on Card: My name printed in my Metrobank ATM card
Credit Card Number: the ATM card number printed on the front of my Metrobank ATM card
CVV Code: the 3 digits (numbers) found at the back of the ATM card
Expiration Date: expiration date of my Metrobank ATM card printed on the front
My Metrobank ATM Card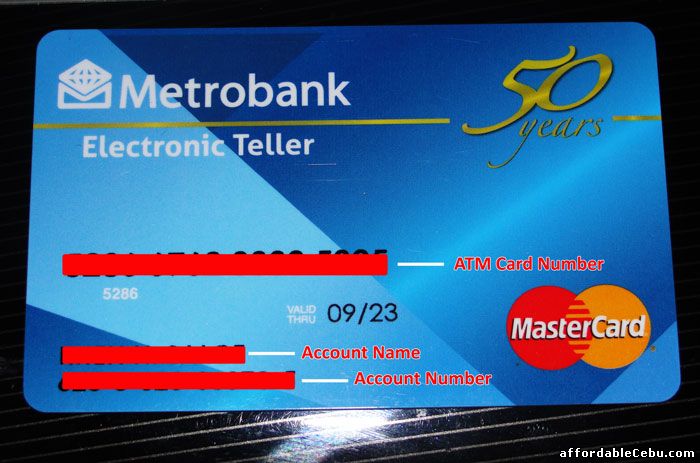 You can find most information required by HostGator Payment Option at the front of the Metrobank ATM card.
You should be happy that you have another quick and accessible alternative method of paying web hosting services in the internet.
Are you having any problem paying HostGator using your Metrobank ATM card? or Do you know other atm card of other banks that can be used to pay HostGator?