Are you searching for a way to type
one half
, as in
½
in your computer keyboard? You cannot find
½
in your keyboard, right? Making ½ symbol is very useful in making math formulas.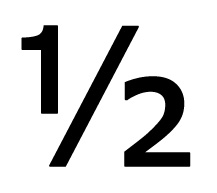 There are two ways to create a ½ symbol in your computer.
Type 1/2 - one slash two.
That is the simplest or easiest way but it consumes bigger character spacing.
Hold Alt in your keyboard while pressing 0189.
This is a keyboard shortcut and is difficult to remember. The result symbol is ½.
For easy reference, just bookmark this page and come back whenever you need to make ½ in your computer.
Did you successfully create ½ in your computer?