Do you want to view all phone/mobile numbers of all your Facebook friends? Searching for phone numbers of all your Facebook friends is easy. You don't need to go to your Facebook friends profile one by one just to look for their contact number. Just follow this 2 simple steps below:
How to View All Phone Numbers of Your Facebook Friends
1. Go to Facebook website and log-in to your account.
2. Go to the
Account
menu >
Edit Friends
and click
Contacts
section located in the left side bar. And there you are viewing all your Facebook friends' phone numbers.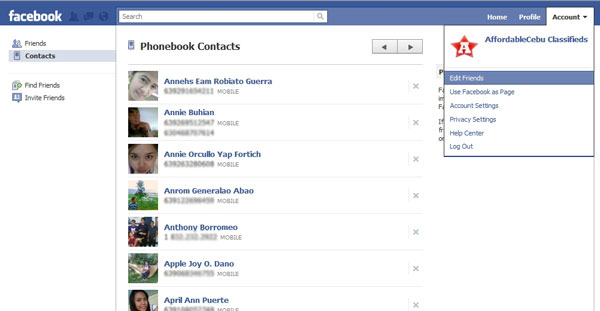 View all Facebook Friends' phone numbers picture

You can also print this Facebook phone directory in paper if you like. Just hold the Ctr button in your keyboard and press letter P (Hold Ctrl + P).