Many foreigners like Filipinas (Filipino women). They find them sweet, caring, loyal, and good mothers for their children. But the reality is there are always bad apples in every bunch. Some Filipinas are dishonest and cheat their foreign boyfriends. I know some of them, the friends of my friends. I want to share these top lies to you that some Filipinas commit to their foreign boyfriends. If you're a foreigner and planning to court or marry a Filipina, these top 5 lies may serve as warning signals for you to be alarmed. In each lie, we provide some tips on how to defend yourself.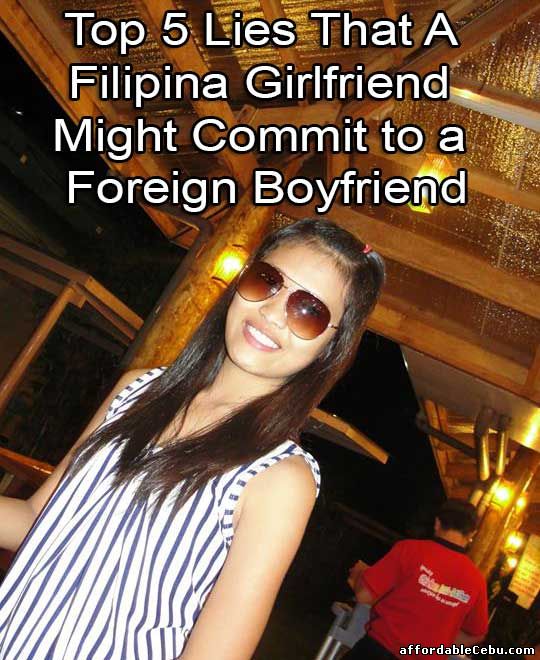 1.) A Filipina might ask you some money to finance her studies or pay her tuition, buy a laptop/computer, or buy a gift for her parents' birthday.



The main reason why most Filipina are looking for a foreigner to court or marry her is financial security. Filipinas have embedded in their minds that foreigners can help her and her family escape from poverty that most Filipinos are experiencing. Some Filipinas are asking some money to a foreigner to finance those things that they want but actually the money is being used not to the actual things but to other things instead such as spending the money to her boyfriend here in the Philippines, spending the money for her nightlife or spending the money for the unnecessary things she wants. Make sure you only send or give money that you can afford to lose.



2.) A Filipina is telling you that she's single but she's actually married or has children here in the Philippines.
You're a country apart from a Filipina. It's very hard to determine whether a Filipina is married even she tells you she's single. To help you know a Filipina better, search her name in the internet and try to research about her background and don't hesitate to ask her friends through social networking sites such as Facebook, Twitter or even through email.



3.) A Filipina is telling you that she's so pretty and young (she posted here sexy and beautiful pictures herself in a dating site or social networking site).
Some Filipinas are hiding their real identity. They post fake pictures of themselves in the internet (sexy and beautiful lady in a picture). In fact, they're old and their skin is full of wrinkles. They pretend to be lovely ladies in the internet and chat with foreigners for the purpose of enticing you (the foreigner) to send money for them. Don't be deceived by your fist impression. Do not trust a Filipina right away. Know her better. You can call or video-chat with her through skype, facebook chat, google hang-out, or Yahoo messenger.
4.) A Filipina is asking you some money to buy medicines for her sick parents, sister or brother.
This lie may soften your heart to send or give money to a Filipina. But the truth is her parents, sister or brother are not sick. To verify a Filipina's statement, you can video-chat with her. You may request to show the sick person or

doctor's prescription in the camera. Again the best thing to do if you're not sure a Filipina is telling the truth, give money that you can afford to lose.



5.) A Filipina tells you that she's still a virgin but actually she's not.
This lie is very common. You can determine if she's a virgin by asking her again and again. If you found some inconsistencies to her answer, then, you have to doubt her. Don't hesitate to ask her family, friends, or relatives about her past relationsips with other guys. Virgin or not virgin, if you love her at the bottom of your heart and if you feel her sincerity, then you must accept the fact the she's unfortunately divirginized.
If you know other lies that a Filipina might commit to her foreign boyfriend, please tell us in the comment below. If you're a foreigner, could you tell us how your Filipina girlfriend lie to you once?